The Young People's Project Leaders Present at Virginia State
---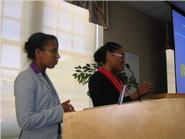 Leide Cabral '11, Denise Ghartey '12 and Hector Acevedo '08 presented at the K-16 Model of Minority STEM Education: Innovations in Pedagogy and Approach Conference hosted in April at Virginia State University with funding from the National Science Foundation. The student leaders of The Young People's Project at Hamilton College (YPP@HC) joined Maisha Moses, The Young People's Project national board member and daughter of Robert Moses '56.

Among the main speakers for the conference, the leaders presented to about 100 faculty and administrators from historically black colleges and universities across the nation. Conference participants were interested in developing leaders in marginalized communities through STEM oriented curriculum. The presentation focused on the structure of the YPP@HC site and its ability to bridge the gap between college students and young people from local communities.

The presentation also focused on the development of YPP@ Collegiate, a national model that seeks to replicate Hamilton's work at colleges and universities nationwide. The model rests on the belief that collegiate institutions have as much at stake in developing local underprivileged communities and that publicly educated students deserve the opportunity to a quality education. Conference attendees expressed concern at the lack of students of colors entering STEM oriented fields as a result of inequities in public education.

The mission of YPP is to use math literacy as a tool to develop young leaders and organizers who radically change the quality of education and life in their communities, so that all children have the opportunity to reach their full human potential. YPP has been able to bridge the gap between math literacy and social justice; the organization has started many initiatives across the country that will one day improve the quality of life for low-income communities. Students at Hamilton College are trained to develop and facilitate workshops to students in the Utica Middle Schools.

YPP@HC was made possible this past academic year with funding from The Kirkland Endowment, The Bonners Leaders Program in the Levitt Center, and The Diversity and Social Justice Project. This trip was made possible with funding from the National Science Foundation and the Bonner Leaders Program.