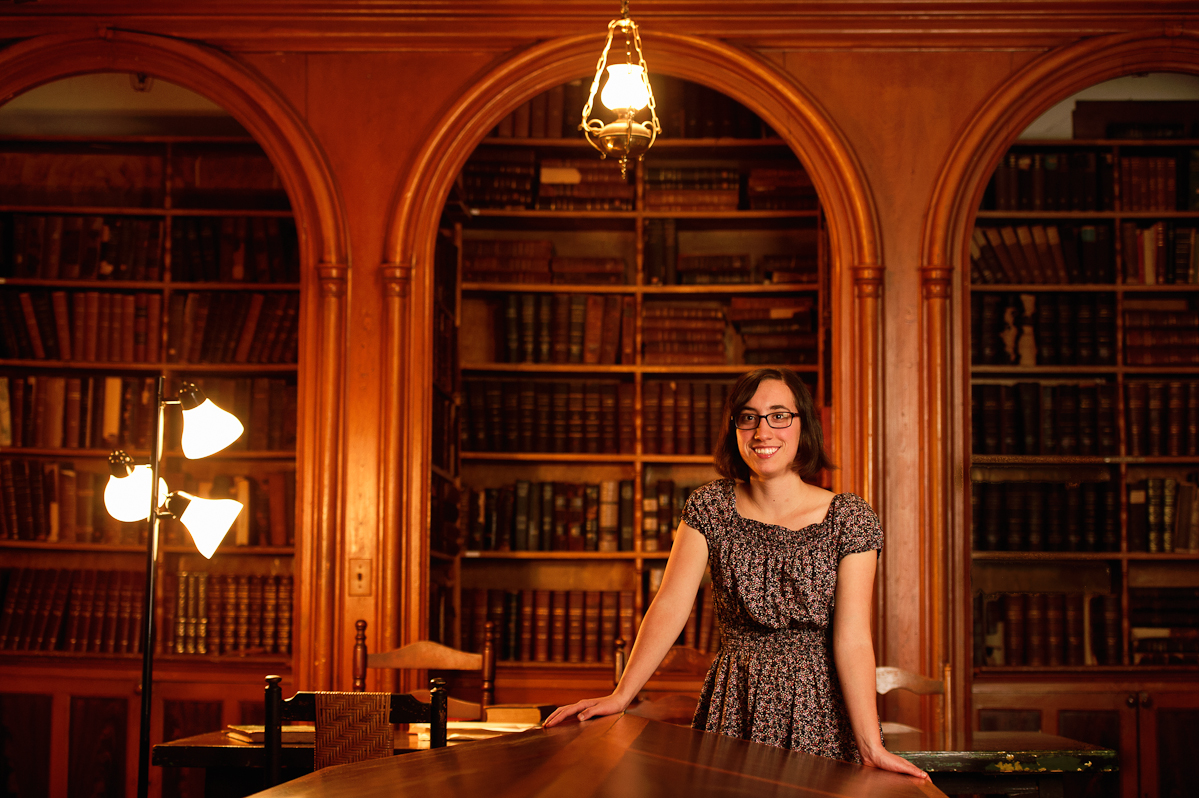 Known by many for its 'free love' praxis, the Oneida Community was a religious commune founded in 1848 by John Humphrey Noyes. Noyes and his followers believed the second coming of Christ to have occurred in 70 C.E. and they hoped that through the establishment of the Oneida Community they would be able to persuade those Christians who had already ascended to salvation to return to earth and join their commune.
Noyes sought to eventually expand the Oneida Community to a larger network of communes that would span the globe and exist free of sin. The community, situated in nearby Oneida, New York, thrived for several decades until its collapse in 1881, at which time several members founded the well-known silverware company, Oneida Limited.
For her Emerson project, Leigh Gialanella '15 is examining the Oneida Community's print culture under the guidance of Professor of History Doug Ambrose and the director and curator of the Hamilton College Special Collections and Archives, Christian Goodwillie. Print culture, as Gialanella explained, "refers to a society's relationship with the written word." As for her project this summer, she said, "An analysis of print culture in the Oneida Community touches upon trends in readership and explores the effects of printed manuscripts and media on the community."
Noyes and his followers strongly emphasized communalism. Besides resulting in the practice of complex marriage (A.K.A. free love), this belief in communalism meant that new members were expected to offer up all of their books to the community library. Over 4000 of these manuscripts still exist, which provide Gialanella the perfect means of exploring the community's print culture.
In 1861, the Oneida Community began construction on the Mansion House, which today serves as a museum and stores many of the community's artifacts, including all the manuscripts Gialanella hopes to examine this summer. Gialanella spends her days rifling through books in the dimly lit Mansion House library to gain insight into the Oneida Community and its people.
"Many of the books contain ownership inscriptions, bookplates, and marginal commentaries from their readers, which allow me to explore the minds of the people who once owned and read these manuscripts," Gialanella explained.
Gialanella hopes this process will help her address three core questions posed in her project: "What books and authors was the Oneida Community reading? Which manuscripts merited comments, critiques, and/or detailed ownership inscriptions? Did the media consumed by the community influence its growth and development?"
After perusing these manuscripts, Gialanella scans covers and pages from the books and catalogues them in online databases. She then links these records to online annotated library collections, which can be accessed anywhere in the world.
"The finds inside the books have been amazing as well," Gialanella remarked. "We've found photographs, 150-year-old leaves pressed between pages, plaintive letters from distressed community members, coin rubbings, and all sorts of interesting inscriptions and doodles. Who knew that John Humphrey Noyes liked drawing people and writing his name all over his college textbooks?"
When asked what interested her about the topic, Gialanella concluded, "During the last few weeks I have found children's drawings and inscriptions. I have seen people spell words wrong, scribble on flyleaves, write love poetry, and painstakingly critique theological arguments presented in the manuscripts. I already have favorite community members as a result, some because they had neater-than-average handwriting, others because they owned many books, and others still because they wrote immature comments in college textbooks. This is what history is all about."
Gialanella, a history major, is confident that she will continue on in a history-related field after Hamilton. Though unsure of her post-grad plans, she hopes to work at a historical site or a research institution before applying to graduate school.
Leigh Gialanella '15 is a graduate of Albany High School, NY.