Art by Leigh Taylor Mickelson '93 to Be Exhibited
---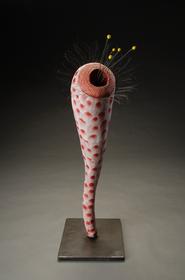 Beginning July 7, the Kenise Barnes Fine Art Gallery in Larchmont, NY, will feature the work of Leigh Taylor Mickelson '93 in the exhibition "Got to Get Back to the Garden." The exhibition will display art inspired by nature and created from unusual materials, including fabric, ceramic, and cut Mylar. Mickelson describes her ceramic sculpture as an exploration of one of the most recent inspirations for her work: a plant's will to pollinate. For her, the private "business" of flowering plants reveals a world that mimics human interaction to a fascinating degree.
At Hamilton, Mickelson majored in studio art and English literature. She graduated summa cum laude and was a member of Phi Beta Kappa. She went on to earn her master of fine arts in ceramics and ceramic sculpture from Rochester Institute of Technology.
Mickelson is currently the program director of the Clay Art Center in Port Chester, NY. Her work is exhibited nationally, and has been in solo exhibitions at the Sherrie Gallery, the Greenburgh Nature Center, the Clay Art Center, and other galleries. In 2003 she received the Maryland State Arts Council Individual Artist Award.