Levitt Center Announces Reorganization
---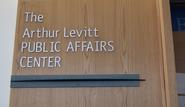 The
Arthur Levitt Public Affairs Center
has reorganized into three, thematically based programs: Security, Sustainability and Inequality and Equity. The goal in creating these groupings is to facilitate interdisciplinary collaboration and discussion among those with similar interests, but potentially different perspectives.
The programs will support empirical, ethical and theoretical research as well as projects that complement and enrich classroom learning. All are designed to encourage and support faculty research, curricular development and student initiatives in these areas. The engagement of individuals with diverse disciplinary backgrounds and views will be central to the success of these endeavors.
The new program directors are Associate Professor of Sociology Jenny Irons (Program on Inequality and Equity), Frank Anechiarico '72, the Maynard-Knox Professor of Government and Law (Program on Security) and Associate Professor of Economics Julio Videras (Program on Sustainability). Professor of Economics Ann Owen will continue as center director during the 2010-11 academic year. Assistant Director Chris Willemsen will work closely with the new program directors. Sharon Topi serves as administrator and coordinator for service learning.
The Program on Inequality and Equity will investigate factors that affect the distribution of income, distribution of health outcomes, impact of policy on intergenerational equity, welfare analysis, discrimination, access to the legal system and the role of incentives, race, gender, immigration.
The Program on Security will center on both domestic and international security. Security issues encompass the safety and protection of persons and property, food supply, market exchange, public health among other public and private concerns across nations and cultural values and institutions. This program will address issues including national security, banking and security regulation, cultural preservation, cyber security and local law enforcement.
The Program on Sustainability will promote academic research on sustainable practices and the necessary policies to achieve them, with an emphasis on hands-on learning experiences for students. The program will support the study of how society can meet the needs of the present without compromising the ability of future generations to meet their own needs. These issues include environmental conservation as well as poverty reduction and health.
The Levitt Council will provide funding in these three areas and also will consider proposals from individual faculty for other research or class projects related to public affairs.
The center will continue to sustain successful service learning programs, including SHINE and VITA, and to support the Youth Polls and survey and community-based research.