Levitt Center Announces Leadership Institute
---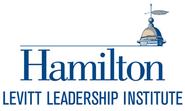 With generous funding from Arthur Levitt, Jr., the Arthur Levitt Public Affairs Center has developed a new opportunity for rising sophomores and juniors. The Levitt Leadership Institute, to be launched in early 2012, will offer two weeks of practical training in competencies that make people effective at all levels of an organization and that are essential to anyone seeking to manage or lead others. The goal of the institute is to cultivate leaders with a commitment to public service, global mindset and ethical behaviors. The Levitt Leadership Institute is one part of the multi-faceted Levitt Leadership Initiative, a program designed to integrate leadership skills and public service into the Hamilton experience.
Applications for the institute will be available on Thursday, Sept. 1. Deadline for submission is Friday, Oct. 14.
During the first week of the institute, to be held on campus in January during winter break, participants will work in large and small groups to improve self-awareness, develop team problem-solving and leadership skills, and practice interview and public presentation techniques. The second week will take place in Washington, D.C., in March during spring break. The skills developed in January will be applied and strengthened through meetings with public sector leaders and discussions with Hamilton trustees and alumni about their leadership challenges and strategies.
Ambassador Prudence Bushnell, the 2010 Sol M. Linowitz Visiting Professor of International Affairs and former dean of the U.S. Department of State's Leadership and Management School, has been a partner in the effort to create the institute and will bring her experience as a leadership practitioner and trainer to both weeks.
Another aspect of the Levitt Leadership Initiative involves public service internship opportunities. This past summer, 11 sophomores and juniors, with career interests ranging from human rights advocacy to law and politics, worked in funded positions in agencies that included the Institute for Policy Studies, the National Research Center for Women and Families, and the offices of several members of Congress. The third element of the leadership initiative involves 20 members of the faculty from departments in the sciences, arts, languages and social sciences who attended a two-day workshop on leadership and have committed to incorporating leadership communications skills practice into their curricula. The last part of the initiative focuses on scholarships for students interested in public service and research grants.