Levitt Center to Host Upstate Fed Challenge
---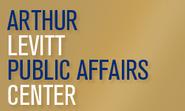 Hamilton's Arthur Levitt Public Affairs Center will host the upstate competition of the College Fed Challenge on Friday, Nov. 9. The Challenge is a team competition for undergraduate college students inspired by the working of the Federal Open Market Committee. Hamilton will be represented by students in Professor of Economics Ann Owen's Monetary Policy class. The students presenting are seniors Eric Boole, Danny Kaufman, Aislinn Shea and Amanda Thorman. The entire class participates, with some doing the presenting and others helping them to prepare.

The Fed Challenge is intended to encourage students to learn more about the U.S. macro economy, the Federal Reserve System and the implementation of monetary policy and financial stability. It's also aimed at spurring interest in economics and finance as subjects for advanced study and as the basis for a career. Ann Owen is a former federal reserve economist.

The annual competition was to be held on Nov. 2 in Manhattan but due to Hurricane Sandy it was rescheduled and the competition was split into upstate and downstate sites.
There are 32 schools in the NY Fed Challenge competition this year. Eight will compete at Hamilton and the remaining schools are competing at other locations. The winning school goes to the NY Fed next week to participate in the semi-finals.

The judges are faculty from colleges who are not in the competition. Students are judged based on their economic knowledge, their ability to answer judge's questions, the quality of their presentation, and the quality of the research.