Levitt Fellow Annie Hudson '12 Studying State-Building in Balkans
---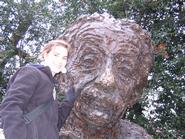 The Balkan states are marked by great ethnic pride and nationalism. Ethnic tensions have stirred conflict on the Balkan Peninsula for thousands of years, and in the age of globalism, defining an ethnic and nationalistic identity is of increasing importance for the Balkan countries. This summer, Annie Hudson '12 will travel to and conduct research in Kosovo, Serbia and Macedonia to study national cohesiveness and state-building.

Southeastern Europe is a region recently marked by transitions from communism to democracy and from war to peace. Balkan nations have struggled, with their young democracies, to establish themselves in an increasingly global market.

Contemporary nationalist conflicts involve integration into the United Nations and the European Union, infrastructure development, and humanitarian aid planning for underprivileged communities.

Hudson's project, "Tackling National Cohesiveness in the Balkans," combines a Levitt Fellowship grant with an academic study abroad summer program through SIT World Learning. The program is a seven-week, experiential study of state-building and human rights in Kosovo, Serbia, and Macedonia. Students travel around the region taking classes and seminars and also participate in a 10-day community action project, where they work with NGOs on service initiatives in their homestay communities.

Hudson's research, which she will conduct with her advisor, Henry Platt Bristol Professor of International Affairs Alan Cafruny, will be largely reading-intensive, and Hudson will be developing case studies in all three countries to which she will travel. A world politics major, Hudson says that she is especially interested in the ways in formations and expressions of national identity in the Balkans because the states are relatively young and have histories scarred by violence and foreign rule.

Hudson spent the first 12 years of her life in Germany, and the idea for her research project was born out of an original interest in German nationalism and identity. She decided, though, that the Balkans would make a more interesting case study than Germany because of their relatively recent independence following the collapse of the Soviet Union. "I just want to take what I know from Germany and what I know about nationalism and see it in a new context," she explained.

Annie Hudson '12 is a graduate of Wilde Lake High School (Columbia, Md.).