Levitt Fellows and Faculty Get to Work On Collaborative Research
---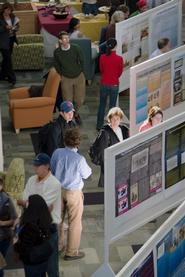 Sixteen Hamilton rising juniors and seniors will spend their summer conducting research as recipients of 2009 Levitt Fellowships. Each year the Levitt Center funds student-faculty research to enhance study around issues of public affairs. This summer's projects represent a wide array of topics as well as geographical locations, from Identity and Community on Martha's Vineyard to North Korean Human Rights.
Following are student participants and their projects.
Daniel Bunger
'11, Co-operative Banks in the Financial Crisis: An International Comparison;
Jiong Chen
'10, China to Protect Intellectual Rights on Digital Media Products;
J. Max Currier
'10 , Obama's War: Provincial Reconstruction Teams in Afghanistan;
John Dunn
'10, Reconciliation and Rugby in Post-Apartheid South Africa;
Robert Eisenhart
'11 "Examining Human Rights Abuses in the War on Drugs: U.S. Foreign Policy and Plan Colombia;
Alex Gross
'11, Olde Nourse Farm;
Jae Yong Kim
'10, "Is the Sun Shining on North Korea? North Korean Human Rights Crisis and the Roles of NGOs and South Korean Government.
Erica Kowsz
'11, "Cultural Landscapes of the Irish Coast Heritage Project 2009;
Injun Lyo
'11, A Comparative Study of the Childrearing Practices of White American and Immigrant Korean Parents;
Mario Magana
'10, Democratization in El Salvador;
Lauren Perillo
'10, Women's Mutual Aid Societies in the Era of the Rise of the British Welfare State;
William Preston
'11, John Howland: the Separatist and His Posterity;
Samantha Rabin
'11 Open Season on Tourists? Identity and Community on Martha's Vineyard;
Kevin Rowe
'10, Community-based Urban Planning and Environmental Justice in Two NYC Neighborhoods;
Ekaterina Staykova
'10, Bulgaria's Integration in the European Union; and
Elizabeth Weber
'10, The Homes and Possessions of the Women in Manchester, England.
Faculty working with students this summer on Levitt research projects are: Doug Ambrose, Alan Cafruny, Peter Cannavo, Dingding Chen, Dennis Gilbert, Nathan Goodale, Kevin Grant, Jenny Irons, Betsy Jensen , Derek Jones, Shelley McConnell, Lisa Trivedi and Ned Walker '62.
The Levitt Fellowship program is open to all students who wish to spend the summer working in collaboration with a faculty member on an issue related to public affairs. Students receive a stipend and spend 10 weeks in the summer working intensively with a faculty mentor. Those selected for the program are required to provide a written assessment of their work at the completion of the summer, and also participate in a poster session in the fall. Levitt Fellows are automatically eligible to participate in the Levitt Scholars Program, in which they discuss their research in local high schools.
Related Information
Summer Research at Hamilton