Inaugural Levitt Leadership Institute Trains Students in Public Service
---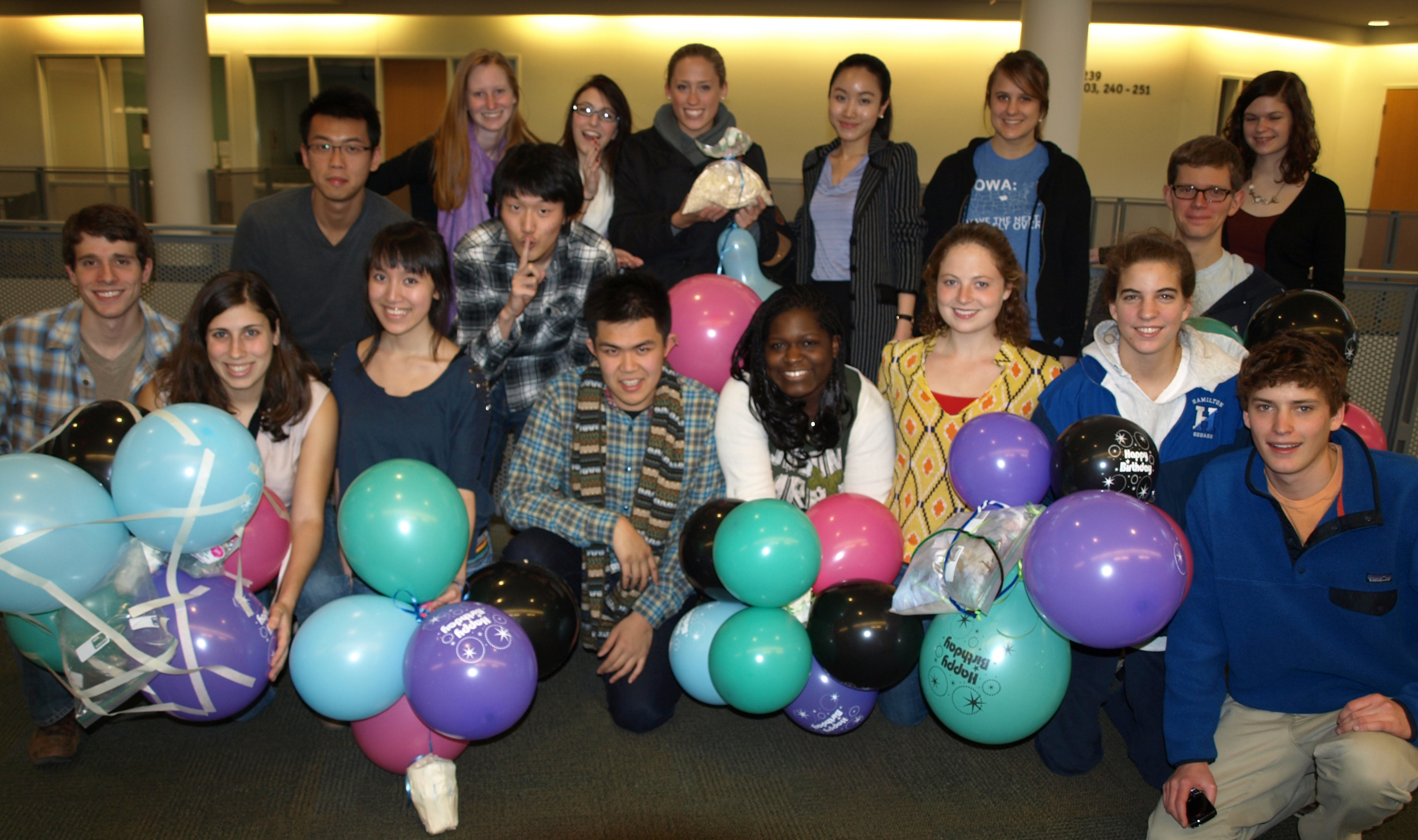 Eighteen students returned a week early to campus over winter break to take part in week one of a two-week pilot leadership program through the Arthur Levitt Public Affairs Center. The program, called the Levitt Leadership Institute (LLI), was designed and led by Ambassador Prudence Bushnell with the assistance of Christine Powers and was intended to provide strong leadership training for students interested in working in public service. This program was made possible by a very generous gift from Arthur Levitt Jr.
Week one of the institute focused on developing personal leadership skills and included lectures, skills practicum and initiatives to develop team building, problem solving, interviewing and presentation skills. Students explored personal leadership skills, taking inventories to identify personality type, emotional intelligence and behavior in conflict situations and participating in a host of team initiatives to practice leading as well as giving and receiving feedback.
Highlights of the week included:
students interviewing community leaders on their personal leadership styles;
learning from hearing accounts of leadership experiences including Ambassador Bushnell's report of the recovery from the 1998 bombing on the Kenyan embassy during her tenure as ambassador; and
taking over the McEwen kitchen to plan and prepare a meal for 50 student leaders on campus from the Alternative Spring Break and America Reads programs.
Week two of the session will be conducted in Washington D.C. where students will have a chance to meet with public service practitioners, trustees, alumni and recent graduates to work on a self-designed project as well as explore personal leadership styles and organizational and individual goals.
Ambassador Prudence Bushnell, the 2010 Sol M. Linowitz Visiting Professor of International Affairs and former dean of the U.S. Department of State's Leadership and Management School, has been a partner in creating the institute. Christine Powers has had a 30-year career in the public sector, fostering leadership development through training, organizational development and executive coaching in the foreign affairs arena. She has extensive experience facilitating team-building activities in embassies and consulates, including in high stress posts such as Baghdad, Jerusalem and Ciudad Juarez.
Students participants were Patrick Bedard '14, Julia Brimelow '14, Hannah Coffin '14, Zhuolun Du '15, Caroline Epstein '13, Adriana Fracchia '14, Alice Henry '14, Krista Hesdorfer '14, Katrina Keay '14, Matthew Langan '14,
Beryl Li '14, Jimmy Nguyen '14, Trang Nguyen '13, Sade Oyalowo '14, Alex Powers '13, Max Schnidman '14, Galia Slayen '13 and David Tse '14.
Student Comments:
Alex Powers
"Maybe the most valuable thing we did during the LLI was learning how to learn about ourselves. We accomplished this by practicing giving and receiving feedback, taking and interpreting psychological measures of personality, and by noticing how we acted in group activities. Since Hamilton's motto is "know thyself," last week brought us closer to that ideal.

Katrina Keay
The Levitt Leadership Institute was a great opportunity to meet other driven students interested in being leaders in all areas of their lives. It's rare to meet college students who are all so smart and willing to discuss and debate. I'd just gotten back from my home in Iowa, where I'd voted in the caucus, and I wanted to talk about politics with other students. Virtually every person was willing to talk about the GOP race and share their viewpoints with me. One of the best moments of the Institute was after we had finished cooking and were eating the meal we had just prepared. This moment stands out for two reasons: we had accomplished something huge as a team, and the food was delicious.

Zhuolon Du
"The LLI definitely strengthened my awareness and skill of self-management. What's more, I am spurred to think about what an individual could do for the common good of society as a whole. I start to realize that we do not need to be heroes to make changes, instead we can just contribute to our community as ordinary people. Absolutely great figures would lead something fabulous, but it is the power of mass that creates real differences for the world."

Matt Langan
LLI has, and continues to be, a great experience. Through the program I developed important lifelong leadership skills that I can apply to benefit the Hamilton community and the career I choose to pursue. After only a week of leadership training, I can already see the impact it has had on the way I approach leading, or following, in a group setting. I learned some invaluable lessons especially in our team building, personal reflection, and seminars that I will work on successfully using as a group participant or leader. I am excited for the second week of the program in Washington D.C. and looking forward to the opportunity to learn from U.S. leaders firsthand.

Sade Oyalowo
The Levitt Leadership week was a good experience for me because I had a chance to meet and connect better with people I have never met; Hamilton seems very small sometimes but there are still so many people that I don't know that well so it's always great to engage with new people.