Levitt Poll Included in N.Y. Times Op-ed
---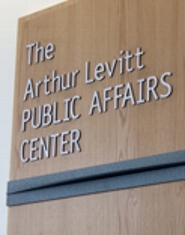 The most recent poll
released by the Arthur Levitt Public Affairs Center was referenced in a
New York Times
opinion piece titled
"Justin Bieber for President"
which appeared on Saturday, August 14. The survey of high school students' attitudes toward the U.S. economy and the performance of President Obama revealed significant differences in attitudes on both issues between African-American and white teens.
Charles Blow, who penned the opinion piece, compared adult anger, anxiety and frustration to the relative optimism of children. Blow wrote, "So, yes, I cast my lot with the actual children, and not because I think that they're Obama-conformists, either. They're not. In fact, they're even more harsh on the president than adults. An April poll of high school students published by Hamilton College found that '70 percent of African-Americans in the survey give Obama a favorable rating, but the analogous number is only 21 [percent] for whites.'"
Associate Professor of Economics Stephen Wu and students in his Labor Economics class devised the poll questions, which were distributed via the Knowledge Networks Panel, an online, non-volunteer access panel whose members are chosen through a statistically valid sampling frame covering 99 percent of the U.S. population. This poll was conducted March 5 – 13, 2010.
This survey is one of a series of youth polls funded by the Arthur Levitt Public Affairs Center. Previous polls have addressed youth attitudes on the environment, abortion, patriotism, immigration, politics and the U.S. Senate, Muslim Americans, gay issues, gun regulation and race issues.