Wafula '13 Studies Correlation Between AIDS and Education in Kenya
---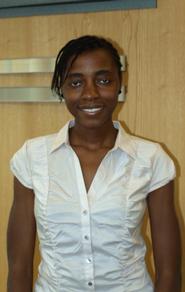 Pauline Wafula '13 became interested in HIV/AIDS research after writing a paper on anti-retroviral treatments of the disease in sub-Saharan Africa for a healthcare economics course taught by Lecturer in Economics Margaret Morgan-Davie. Wafula, an economics major, has been awarded a Levitt Summer Research Fellowship to pursue further HIV/AIDS research with a focus on women in her native Kenya under the guidance of Associate Professor of Economics Stephen Wu.

While HIV/AIDS prevalence in Kenya has fallen drastically over the past decade and a half, down from 13 percent to eight percent, women still suffer from the disease at a disproportionately high rate compared to men. Past studies on the correlation between HIV/AIDS prevalence and education have yielded conflicting results, but Wafula's research and common sense tells her that education levels are a primary contributing fact to the HIV/AIDS gender gap.

Fordham University Professor of Eonomics Robert Brent is one of the leading researchers in the field of HIV/ADIS and education, but even his studies on the issue sometimes yield conflicting results. A 2006 study by Brent on 31 sub-Saharan countries failed to identify a correlation between education and HIV/AIDS rates; however, a 2009 study by Brent on Tanzania revealed a strong positive correlation. Brent recommended that future research on the topic be restricted to samples from individual countries, and Wafula has adhered to this advice in the design of her summer research project.

Wafula started her research by amassing the necessary data and statistics on HIV/AIDS rates in Kenya from the Kenyan National Demographic Survey and UNAIDS. She then combed through dozens of variables in order to identify the necessary parameters for her regression analysis, a statistical procedure which correlates different variables against one another. Her regression analysis revealed that women with secondary education have a 3.1 percent lower HIV/AIDS prevalence rate compared to women with no education, with a statistical significance of 0.03 percent.
This means that the probability that the correlation Wafula discovered is a product of chance is only three percent. Unsurprisingly, higher education was even more correlated with a reduction in HIV/AIDS prevalence, showing a 3.7 percent decrease in HIV/AIDS prevalence compared to women with no education. She also found that access to education is even more effective in preventing HIV/AIDS for girls and women in urban areas than in rural ones, and that age has no effect on the correlation between HIV/AIDS and education.

Kenya introduced free primary education in 2003, and given the strong effect that education has on HIV/AIDS prevalence in girls and women, Wafula believes that policy makers should further the expansion of free education as a tool for combating the disease. With the exception of primary school, all education in Kenya requires either a fee or an entrance exam for admission.
While expanding Kenya's free education system would be costly, Wafula notes that a cost-benefit analysis conducted by Brent in Tanzania found that the cost savings from reduced HIV/AIDS related expenses more than make up for increased education expenditures. She is considering expanding her research on HIV/AIDS prevalence and education in the coming year as a component of her senior thesis.

Wafula is a graduate of Loreto High School (Kenya)