Levitt Series to Host Panel on "Art, History, and Politics of the Novel"
---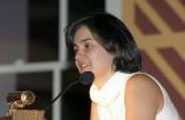 Pakistani novelists Kamila Shamsie '94 and Tariq Ali will participate in a panel on "Art, History, and Politics of the Novel," on Thursday, Nov. 12, at noon in the Fillius Events Barn. It is part of The Arthur Levitt Public Affairs Center 2009-10 series "Crisis: Danger and Opportunity," and will be moderated by Hamilton's Assistant Professor of English Tina Hall. The discussion is free and open to the public.

Shamsie's first novel, In the City by the Sea, was shortlisted for the "Mail on Sunday/John Llewellyn Rhys Prize," and her second, Salt and Saffron, won her a place on Orange's list of "21 Writers for the 21st Century." In 1999, Shamsie, a 1994 Hamilton graduate, received the Prime Minister's Award for Literature in Pakistan. She also writes for The Guardian, The New Statesman, Index on Censorship and Prospect magazine and she broadcasts on radio.

Ali is a historian, novelist, filmmaker, political campaigner and commentator. He regularly contributes to The Guardian, CounterPunch, and the London Review of Books. He is the author of several books, including Pirates of the Caribbean: Axis of Hope, Clash of Fundamentalisms: Crusades, Jihads and Modernity, and The Duel: Pakistan on the Flight Path of American Power.