Levitt Researcher Examines Relationship Between China and Tanzania
---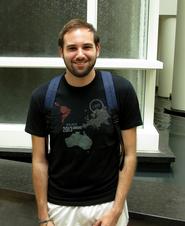 There's no shortage of media coverage when it comes to China's booming economic sector. Reforms dating back to the 1970s have launched China's economy on a trajectory that was unfathomable 40 years ago. Now that the country has established industrial and financial infrastructures, it is looking for ways to sustain its economic growth.
Neil Edwards '14 is examining the developing investment of China in Tanzania to see if it fosters a mutually beneficial relationship between the countries. His time spent abroad in the African country allowed him to see some of the developments supported by Chinese financing and it immediately ignited his interest. Edwards wants to examine whether or not Tanzania should continue to receive such large investments from China in exchange for short-term economic stability. His research is sponsored by the Arthur Levitt Public Affairs Center.
Situated in eastern Africa, Tanzania depends on international aid to survive in a globalizing world economy. The country did not form an alliance during the Cold War and the Chinese government decided to invest in it when many others were pre-occupied or unable to spend the money. Starting in 1970, China began its $500 million investment with the funding for the TAZARA Railway. The railway ultimately connected Zambia to Tanzania's largest city, Dar es Salaam, and China.
By examining the actual investments and trading of China, Edwards hopes to study how that country is approaching its relationship with Tanzania. China is the largest consumer of iron ore in the world, and Tanzania has some very large deposits of the mineral. China is also Tanzania's largest trading partner and second largest investor. Tanzania recently accepted a $3 billion investment for an iron ore company in the country from China and there are concerns about whether or not the deal was equally beneficial to both countries.
Professor of Government Steve Orvis will be advising Edwards on his research this summer. Orvis has experience working with African issues, and specializes in many topics related to Kenya. Edwards, "wouldn't have picked any other professor for this [project]," and looks forward to consulting Orvis throughout the summer.
Edwards is exploring more topics related to China's investment patterns and their incentives for pursuing them. Sudan is known for having some large oil reserves and China is trying to capitalize on those stores. The country invested in the reconstruction of a port in Sudan so that oil could be more easily transported outside of its borders.
Other than numeric data, Edwards will examine the Western fears toward China's growing investment activity. Many wonder if China is truly concerned about the interests of the countries it is trading with or if it wants to reap the short-term benefits from the resources and take advantage of the vulnerable, small economies. Corrupt and unjust government systems have kept many resources from being extracted, but China has been managing to strike deals in order to remove them.
Scholars in this field use different methods to calculate trade figures within their research. When a student like Edwards tries to examine the present relationship and trading patterns, conflicting numbers will negatively affect his analysis. Experts say to be cautious about which numbers to believe, so there are virtually no sound statistics in the field that Edwards feels comfortable trusting.
Edwards is approaching the subject with as few biases as possible. Many popular news outlets or journals are quick to be skeptical about China and its intentions. Edwards simply wishes to examine the available data and see if the investment and trading between China and Tanzania is mutually agreeable. There are no issues with Tanzania accepting the funds that are encouraging economic development if both countries benefit equally.
Aside from his academic interests, Edwards is also president of the Model EU club and is a member of the ultimate Frisbee team.
Neil Edwards is a graduate of Hopewell Valley Central High School (N.J.).