Libby Chamberlin '14 Interns for Vermont Senator
---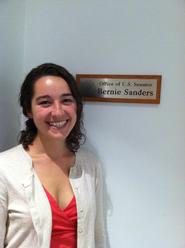 Libby Chamberlin '14 is interning for U.S. Sen. Bernard "Bernie" Sanders this summer, interacting with constituents and contributing research for legislation. Working for the Vermont senator, she is completing major projects, and aiding in daily tasks to help better serve constituents. Her positive experiences with faculty in the Government Department prompted her to consider an internship in the realm of politics.
Located in Burlington, Vt., Sanders' team of employees is devoted to constituent outreach and advocacy. While the senator works from his office in Washington, D.C., Tuesday through Thursday, he travels to Vermont on Friday and stays through Monday. Among the things for which he is known is his delivery of an eight-and-a-half-hour filibuster speech to protest the Tax Relief, Unemployment Insurance Reauthorization, and Job Creation Act in 2010.
Chamberlin recalls listening to Sanders, a registered independent, at the age of nine and is honored to be working for him now.
She began her internship search while studying abroad in China and started contacting government representatives. The Joseph F. Anderson '44 Internship Fund, administered by the Career Center, is helping Chamberlin finance her summer expenses.
One project that Chamberlin was assigned is researching legislation on the marketing of certain homemade goods. After a call from a constituent, her supervisor directed her to the issue, and she is now responsible for investigating past bills related to selling crafts. She is learning how to navigate congressional research databases and other government software programs. Aside from this project, Chamberlin is handed many smaller duties on any given day. These include data entry, writing congratulatory letters and correspondence with veterans.
She stressed the importance of being flexible, and she "needs to be able to adapt, and adapt quickly." Putting aside her own projects to help others is a common occurrence, and she is developing time management skills that are crucial in any office environment.
Being well-read on current affairs is essential for her position, according to Chamberlin. The office has a program that electronically monitors headlines and stories that are relevant to the senator and his district. She also reads through local newspapers every day, clipping and sorting articles that could be applicable to activity in the office.
Chamberlin finds personally interacting with the constituents, and addressing their individual needs, exceptionally fulfilling. She is pleased with her professional work thus far, and is learning what factors she appreciates in an office environment. This opportunity has prompted her to consider a career in a legislative position in D.C. after graduation.
Chamberlin is a graduate of Concord Academy (Mass.).