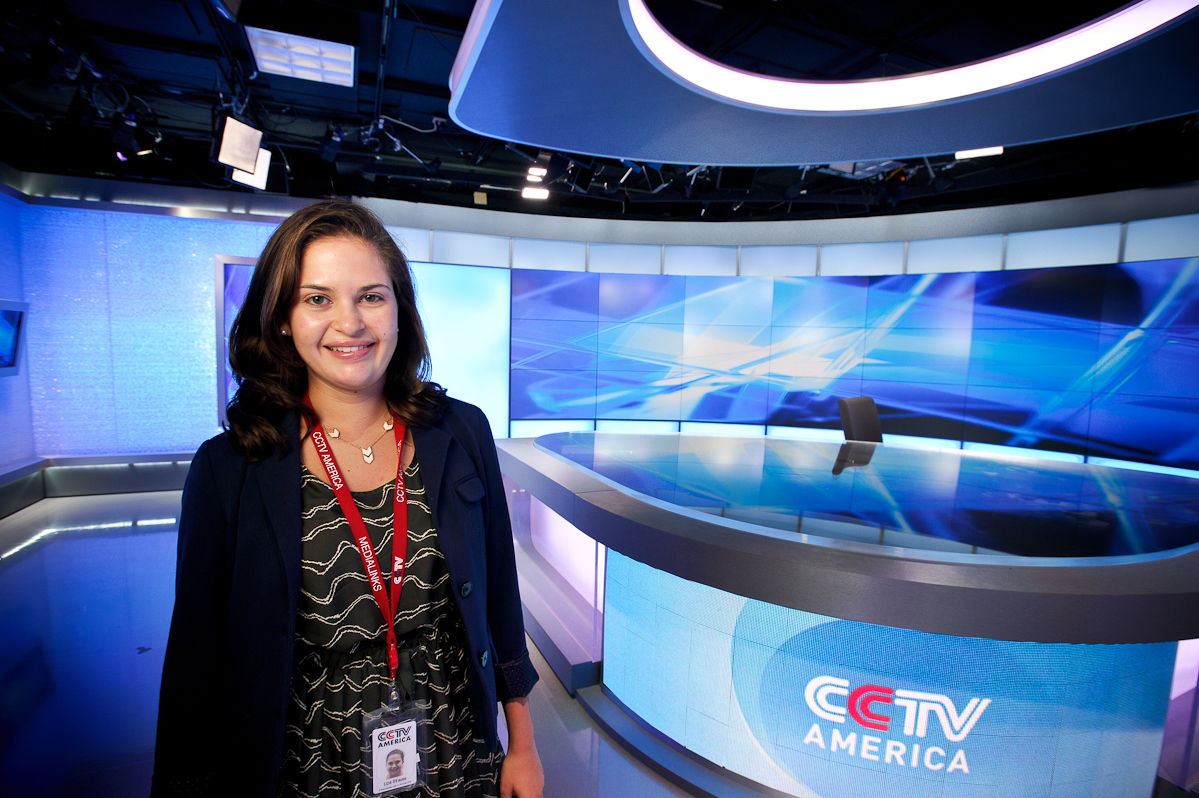 Every day, one billion viewers tune in for the variety of shows broadcasted by China Central Television (CCTV). With 45 different channels, CCTV is composed of more subchannels than any other network in the world. One subchannel, CCTV America is the English-language news channel run by Chinese state broadcaster, developing programming for English-speaking audiences worldwide.
Liza Strauss '15, a Chinese major and government minor, is interning with CCTV America in Washington, D.C., this summer, sponsored with support from the Joseph F. Anderson Fund. "I'm working with American and Chinese journalists to help produce Americas-based programming focused in Asia. Having recently studied in Beijing with the ACC program," she continued, "I was on a mission to find a job that valued my knowledge of Mandarin and I'm thrilled to be working for a Chinese organization and using my speaking and writing skills daily."
Strauss is gaining a wide array of experiences; from research, to production, to translation and promotion. "The perks of working at CCTV-America," she said, "include doing voice-overs for World Cup coverage, getting a makeover before being filmed for a segment, and assisting as a camerawoman in the field." Working as part of a production team, Strauss noted, "I am learning that there is a method to producing quality work while working under pressure and within time constraints."
Strauss is responsible for managing social media outreach and has gained experience writing promotional articles for the CCTV website in English, although she occasionally translates them into Chinese for CCTV News in Beijing. She is also heavily involved with a new weekend program, Full Frame, which she described as "a weekly magazine show that highlights humanitarian and social causes, primarily focused on human interest storytelling, cultural dialogue and creativity." The program airs on CCTV America at 8 p.m. EDT every Saturday, and in Beijing at 7 a.m. on Sundays.
"Although the purpose of news is to inform and educate an audience," Strauss began, "entertainment value should not be overlooked." She continued to explain that a lot of time and energy goes into developing the show's "look," which initially attracts the audience. "Graphics, the order of a show run-down, and the language used in social media promos all impact the audience's perception and the program's reach," Strauss reported.
Another of her primary tasks is compiling research packets and creating possible questions for anchor Mike Walter to use in celebrity interviews with the likes of Blake Mycoskie, the founder of TOMS Shoes; jazz legend Herbie Hancock; American comic-book writer Stan Lee; and Carly Fiorina, the first woman to head a Fortune 20 company.
Having spent the past academic year studying with the Associated Colleges in China (ACC), Strauss revealed that "the main reason [she] selected CCTV-America is to gain experience working for a Chinese organization before graduating in the spring." She has been considering pursuing a career in China, but first "wanted to test the waters in an environment where East meets West."
She plans on drawing heavily upon her work at CCTV in her upcoming thesis, which will examine the differences between Chinese state-run media and U.S. media in terms of rhetoric, story angles and policies. After Hamilton, she would like to gain a year or two of work experience before pursuing a master's degree in public policy and business. "With the burgeoning technology and entertainment sectors in China, I plan to explore China-based entertainment and tech companies," she concluded.
Liza Strauss is a graduate of Mamaroneck High School.