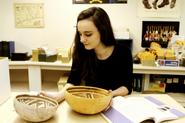 Lillia McEnaney '17 recently published an article in the international journal Museum Anthropology, the publication of the Council for Museum Anthropology, a section of the American Anthropological Society. The article titled "Museum Anthropology: Conversations in the Field" is a compilation of multiple interviews that she conducted with various professionals in the field, including the curator of globalization at the Smithsonian Institution. McEnaney has been an intern for the journal's blog since January.
At Hamilton McEnaney is a curatorial intern for the Wellin Museum of Art and a research assistant for the Religious Studies department. She explained, "As a Hamilton January admit, I arrived on campus looking for a way to get involved in the middle of the year. I was enrolled in professor Seth Schermerhorn's 'Native Rituals and Religious Freedom' class and I realized that we had overlapping interests in indigenous peoples of the U.S. Southwest." McEnaney said she and Schermerhorn decided to work together on the digitization of his dissertation research.
"I also began working with the Wellin Museum of Art where I worked with the curator to digitize the collection of the Wellin for publication to the museum's forthcoming online database," she noted, "and am currently beginning research on the collection of Southwestern Native American ceramics."
McEnaney traces her interest in archaeology to her freshman year of high school when she had a photography internship at the Institute for American Indian Studies Museum and Research Center in Washington, Conn. Her passion for archaeology grew and she began working with collections management research. "Soon, I was given the opportunity to curate my first exhibition," recalled McEnaney. "Over my time at the Institute, I was the sole curator of seven exhibitions, the exhibition researcher of two, and the co-curator of two additional shows."
McEnaney has also interned at the Indian Pueblo Cultural Center in Albuquerque for two summers, the University of Arizona's Arizona State Museum and at her local Newtown Historical Society in Connecticut. In addition she worked on the conservation of a Byzantine mosaic at the Preservation Department at the Yale University Art Gallery.
This summer she was a collections management intern at the Peabody Museum of Natural History at Yale, and designed a website for a modern art gallery in Fairfield, Conn.