Liza Gergenti '14 Interns with Physician Shadowing Program
---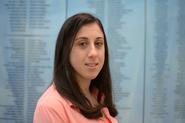 Overlook Medical Center in Summit, N.J., gives college juniors and seniors an opportunity to see what a career in medicine is like. The Overlook Summer Internship Program (OSIP) allows students to shadow medical professionals and gain experience interacting with hospitalized patients. Liza Gergenti '14 took advantage of this summer offering and said that she "got a feel for what life during medical school and residencies will be like, including the long hours with very little sleep."
Gergenti's internship was supported by the Scott Steven Morris '86 Fund, administered by Hamilton's Career Center.
During the OSIP, pre-medical students observe a variety of doctors and decide if they want to pursue a career in a specific medical field. Gergenti shadowed psychiatrists, anesthesiologists and other physicians while seeing patients in emergency rooms, operating rooms, intensive care units, hospital clinics and physician offices. She also got to observe different surgeries and witness a birth during her shadowing experience.
Waking up at 5:30 a.m. to meet her physician by 7 a.m. became a normal occurrence for Gergenti. She studied patients' charts, examined scans or other images and looked at data from various tests or procedures. Gergenti consistently had a full schedule and accompanied her mentor to meetings and appointments with colleagues.
Even with the long hours and grueling work, Gergenti found the tasks to be rewarding and said "I loved the fast pace of the emergency room, and it feels great to have discovered my passion and know what I want to do with the rest of my life."
As a pre-medical student with a concentration in neuroscience, Gergenti performed research focused on the effects of a psychoactive drug at Hamilton last summer (http://www.hamilton.edu/news/story/students-conduct-trials-on-drug-that-could-help-ocd-adhd). While Gergenti enjoyed the research, her experiences during this summer internship have affirmed that she wants to work more closely with individual patients. Determined to attend medical school, she would return home to study for the Medical College Admission Test after finishing her daily hospital duties.
Gergenti is not related to any doctors and had very few connections to the medical world prior to this internship, so she is "grateful to all of the doctors at OSIP who volunteered their time and knowledge." Gergenti said she would not know what a doctor's life is truly like without these professionals and appreciates the effort that her mentors devoted to her.
Gergenti is a graduate of Warwick Valley High School (N.Y.).