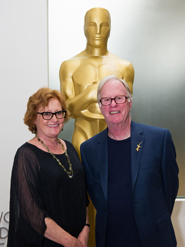 Visiting Professor of Art History Scott MacDonald completed his obligation as a 2011 Academy Film Scholar on March 18 with a lecture and film screening at the Academy of Motion Picture Arts and Sciences in Hollywood.
MacDonald's talk, "The Cambridge Turn," focused on the community of filmmakers in Cambridge, Mass. Those filmmakers were the subject of his book American Ethnographic Film and Personal Documentary: The Cambridge Turn. Published in 2013, the book was supported by the Academy.
The book explores the work of pioneering filmmakers whose innovative approaches were developed in the Cambridge area, and what made filmmaking programs at Harvard and MIT so influential. Several of the filmmakers featured in the book have presented their work at Hamilton as part of the F.I.L.M. (Forum on Image and Language in Motion) series.
According to the Academy of Motion Picture Arts and Sciences website, the Academy Film Scholars program awards two grants yearly "to stimulate and support new and significant works of film scholarship."