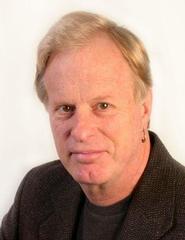 Visiting Professor of Art History Scott MacDonald delivered the annual Rajiv Vaidya Film Lecture on Dec. 7 at the National Gallery of Art in Washington, D.C. He spoke on the New York Film Society Cinema 16 and presented a program that demonstrated the programming strategy developed by Amos Vogel at Cinema 16 between 1947 and 1963 – a strategy that expanded the film culture of New York City and the nation.
The annual film lecture honors a University of Maryland student who was killed in a hit-and-run on his way to a presentation at the National Gallery.
Also, MacDonald's essay "Film Comes First," was published in Be Sand Not Oil: The Life and Work of Amos Vogel. Edited by Paul J. Cronin, the book was published in November by the Austrian Film Museum. MacDonald was the featured speaker at a celebration of the book's publication and of Vogel's work on Nov. 9 at Film Forum in New York City.