Mackenzie Leavenworth '15 Digs Into Ancient Greece
---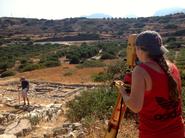 This summer, Mackenzie Leavenworth '15 is living the dream of any classics major. With funding from an Emerson Foundation grant, she is working on an excavation in Gournia, Greece. In addition to uncovering information about the ancient site, she has the opportunity to explore Greece, undoubtedly making her the envy of many of her classmates.
Gournia is a Minoan, or ancient Cretan, site that dates back to 3000 BCE. It was a manufacturing town and was named after gournas, hollow vessels used in wine production. Leavenworth commented that you can still see these vessels all around the site. She is working on the excavation with Professor of Art History John McEnroe, who invited her to participate in the project after she had taken his class on classical art. She and McEnroe are looking at the architecture of the site. They are surveying and taking the precise coordinates of every wall at the site in order to create a detailed plan of what the entire town looked like.
Leavenworth explained that her goal in the excavation is to better understand the life of the average person in Gournia. She observed that the focus of archaeology has shifted to include a more comprehensive look at individuals in different levels of society, explaining, "Early archaeology was all about finding Homer, and looking for big, flashy artifacts. Now, we're seeing the switch to uncovering an all-encompassing view of society."
Leavenworth enjoys spending her time inside the excavated ancient buildings and appreciates the closeness that it lends her to the lives of the people who lived there. "I love pondering what purpose the room might have served for the family when they occupied it," she said. "A kitchen, a bedroom maybe?" As she and McEnroe map out more of the site, they continue to create a more complete picture of ancient Gournia life.
Leavenworth is also taking some time to enjoy Greece. She remarked, "Everyone's lifestyle is so much more laid back," which required some adjustment after a busy academic year. She said that the first lesson she learned after arriving on Crete was ?πομον?ν, which means "patience." She and McEnroe have also been able to visit a number of impressive sites around the island of Crete. Leavenworth was particularly impressed by Psychro Cave, a sacred place known as the birthplace of Zeus. She declared, "I couldn't believe that something this amazing was created naturally! And it's no wonder to me how the Greeks found such religious beauty in the cave."
After this summer Leavenworth plans to continue building on her experiences with classics. She is a classical languages major, but commented, "I just love everything to do with classics, not just the languages." She is thinking of possibly teaching or attending graduate school, perhaps going into museum work. She currently works as a student docent at the Wellin Museum of Art and has found that she really enjoys working in a museum. Whatever she chooses, she will certainly carry her experiences at Gournia, and her passion for classics, with her.
Leavenworth is a graduate of Kinnelon High School in Kinnelon, New Jersey.