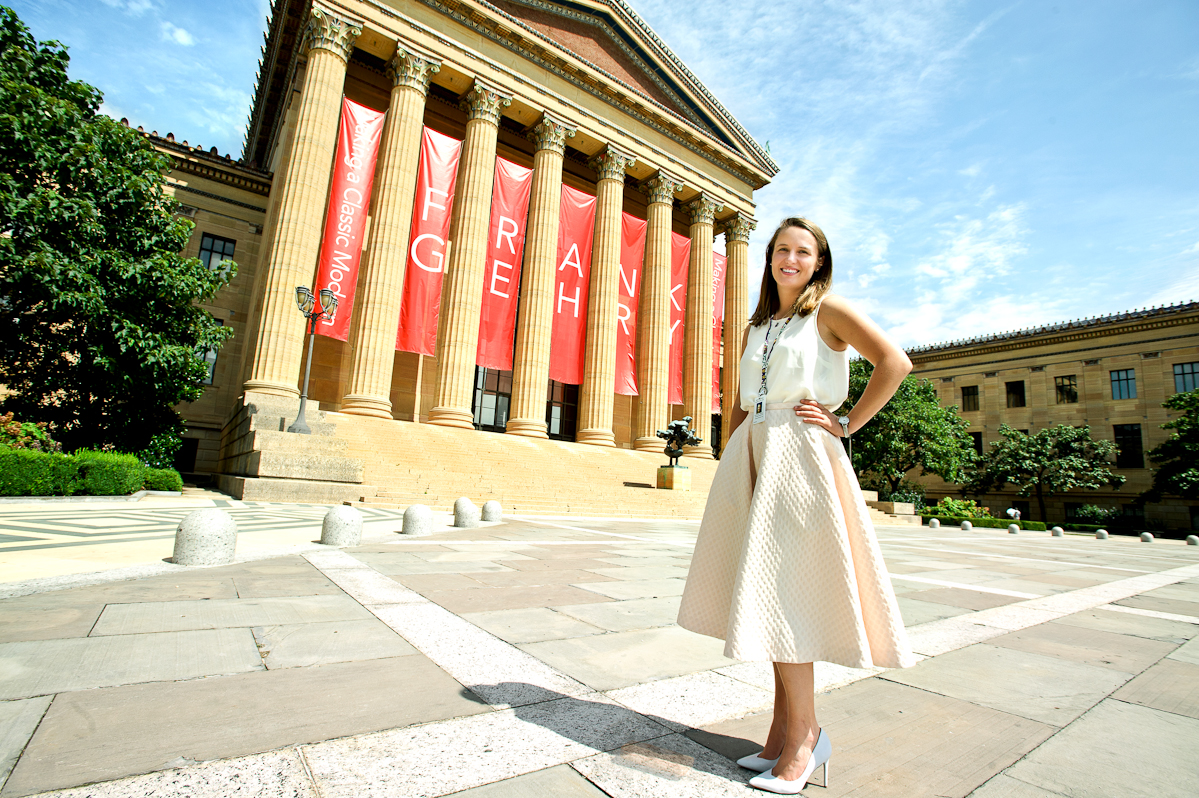 This summer, Mackenzie Leavenworth '15 is interning at the Philadelphia Museum of Art. It is one of the largest art museums in the country, and houses many famous works including those of Marcel Duchamp, Henri Toulouse-Lautrec, and Paul Cézanne. The museum's campus consists of the Perelman Building, the Rodin Museum, two historic houses in Fairmount Park, and the main building, whose steps became world-famous after the debut of the film Rocky.
Leavenworth praised the museum's exhibitions and highlighted one in particular, a new exhibition titled "Making a Classic Modern: Frank Gehry's Master Plan for the Philadelphia Museum of Art."
"It's fantastic, and I highly recommend it for anyone who is wondering what the future holds for large museums or for anyone who just loves architecture and Frank Gehry's work," she commented. Leavenworth even had the good fortune to bump into Gehry: "I was walking up the steps to the ground floor and actually ran into Frank Gehry himself. I was so startled that I became teary and couldn't muster up a single word to say to him. So he just gave me a pat on the shoulder and continued on his way."
For her internship, Leavenworth works primarily in the European Decorative Arts and Sculpture Department, where she collaborates with the curator of Arms and Armor to help inventory art, correct wall labels, and blog about the collections on display. In addition, she attends the Museum Studies Program, which takes interns on tours and introduces them to all the departments in the museum.
Leavenworth found this internship opportunity through Google, but was lucky to have previously shadowed Alexandra Kirtley '93, a curator in the American Decorative Arts Department, through the HamiltonExplore Program. "She was incredibly helpful in my application process. I believe my shadowing opportunity with her gave me that foot in the door that led to this internship," Leavenworth said.
However, Leavenworth's qualifications alone were likely more than enough to secure this internship: in addition to interning at Hamilton College's Emerson Gallery during her first year and working as a docent at the Wellin Museum of Art since its opening in the fall of 2012, Leavenworth received an Emerson Grant last summer to work with Professor of Art History John McEnroe at the Gournia Excavation Project in Greece.
Leavenworth looks forward to one day working at a museum of the same caliber as the Philadelphia Museum of Art. In the short term, however, she hopes to return to Greece in the fall of 2015 through a Fulbright to Athens. She is captivated by Greek art and culture and has even begun listening to Greek language learning tapes on her daily commute to the Museum. Leavenworth believes her internship has given her the skills crucial for a strong Fulbright application and noted how grateful she was to receive support from the Richard and Patsy Couper Fund, which ultimately allowed her to take on this internship and climb one step closer to her Fulbright aspirations.
Mackenzie Leavenworth '15 is a graduate of Kinnelon High School, NJ.