Making a Business Out of Conversation
---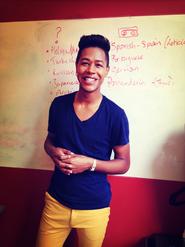 Dyllon Young '15 has found his niche in the world of language. With a concentration in Chinese and additional fluency in Spanish, Italian and English, Young has been interested in learning new languages since he was in elementary school. He is engaging his passion for speech this summer in an internship at Smigin, a startup language instruction company.
While other programs are focused on teaching customers a language in its entirety, Smigin focuses on practical, conversational phrases that will allow someone to converse with ease when visiting a foreign country.
Young's internship was made possible by the Joseph F. Anderson '44 Fund, administered by Hamilton College's Career Center. Thomas Butta '78, an alumnus career center volunteer, assisted Young in getting the internship. Butta recognized that Young was interested in applying his interest in languages. He also wanted Young to gain hands-on experience in a field that could introduce him to many new skills and career paths.
Young is the project manager for the Smigin app that will be released next month. He is working with other interns on the project and fills a wide variety of roles. Daily tasks in the office include communicating with translators and developers in foreign countries, attending networking or promotional events and managing sound clips in extensive databases. He needs to be organized and constantly capitalizes on his outgoing personality while in the office, on the phone or at private functions.
Young has always been aware of iOS apps, offered through the Apple App Store, and "never thought that I would be working with these developers to create a final product." A prototype of Smigin's app is currently being tested in Europe, and the whole team is anxious for its future release.
Having meetings every morning is nothing innovative for companies. However, Smigin's leader, Susan O'Brien, takes a nontraditional approach to these sessions. The team of interns and employees meet at a café in Chelsea each morning to chat sociably and discuss what needs to get done for the day. This continues for an hour or so until the group finishes their coffee and then transitions to the office.
Young's affinity for communication benefits him at Smigin, and he is constantly using the languages that he has acquired. According to Young, "I am utilizing skills that I don't want to lose." He never thought that his linguistic interests would lead him into a corporate environment, but he says he is now interested in a marketing or PR position after college.
When on campus, Young is the special events coordinator for the Campus Activities Board, an Admissions tour guide, an orientation leader and member of the choir and HEAT, a student-organized dance group.
Young is a graduate of Holy Trinity Catholic High School (Chicago, Ill.).