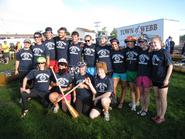 The Hamilton College Marathon Canoe Racing Team kicked off its first fall as an official club sport with four boats in the 29th Adirondack Canoe Classic, "The 90-Miler." Over the weekend of Sept. 9-11, these teams raced with more than 250 other boats in the event hosted by the Adirondack Watershed Alliance.
Last year, the nascent team fielded two four-person canoes. Participation has more than doubled to include this year's four boats and a two-person pit crew for each boat. These pit crews, responsible for all the team's logistical needs, set up camp and cook dinner at night and help the teams at pit stops during the day. While the racers portage their canoes between waterways, pit crew members trade out their water and feed them. "We had to run alongside them as they were sprinting with their canoes," recalls McKayla Dunfey '13.
The majority of these portages occur on the first day of the race, which has teams begin in Old Forge and race to Blue Mountain Lake for a total of 35 miles with four portages. After that long first day, team members say, the race feels much more manageable. The second day's course runs from Long Lake to Raquette River in 30 miles with one portage. On the third day, teams race through the Saranac Lakes in 25 miles with three portages.
Hamilton's first canoe, finishing eighth out of 17 in their category, included Christine Roback '12, Peter Lauro '12, Alexander Thompson '13, and Andrew Jillings, Hamilton's director of outdoor programming, with Jeannie Folan '12 and Rachel Green '14 as pit crew. Two more boats of mixed crew followed. A boat of seniors comprised Kathryn Steck '12, Manique Talaia-Murray '12, Nick Costantino '12, and Katherine Bennert '12, with Elizabeth Chamberlin '14 and Clair Stover '14 as pit crew. The third boat included Jake Lucas '13, Caroline Gregory '14, Charley Allegar '14, and Leah Wolf '14, with McKayla Dunfey and Isabel Krakoff '14 as pit crew.
One canoe of women, finishing third out of four, included Kayla Brenden '12, Amy Dow '12, Jaclyn Specht '12, and Anna Bastidas '13, with Thea Spittle '12 and Emily Brodsky '14 as pit crew.
The experience culminates in a ceremony celebrating every paddler. Those finishing their first 90-Miler receive pins declaring 90 miles, while racers completing their second 90-Miler receive pins declaring 180 miles, and so on. The supportive community surrounding canoeing and kayaking enriches the event for Hamilton racers. "You just feel immediately welcomed when you are there," says captain Christine Roback. Team members also appreciated encouragement from older paddlers, who enjoy racing as a lifetime sport and recognize new faces easily. "The demographic is much older," says Kathryn Steck. "You do stand out!"
Team members credit the exposure from their new status as a club sport with their increase in interest, and hopes to attract even more new members. "A lot of the team right now are graduating seniors," says Roback. "It's going to grow a lot and we need underclassmen to come."

The team continues their early morning practices, preparing for the Long Lake race on Sept. 24. Long-term goals include hosting an event, and, of course, returning next fall. Inspired by the eight-person "war" canoes in the 90-miler, including one full of racers who wore Viking hats throughout the race, Pete Lauro laughs, "We were saying the entire ride home that a bunch of us want to stay over the summer and build a war canoe."
The team encourages interested students to contact Christine Roback.