Marc Simon '94 Group Sales Director of the Year
---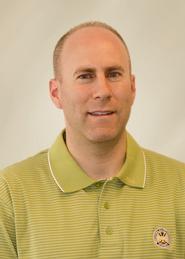 Marc Simon '94, PGA Golf Exhibitions group sales director, has been named the Reed Exhibitions-Americas Group Sales Director of the Year for 2011. The award recognizes Simon's leadership inrejuvenating industry participation in the PGA Merchandise Show and PGA Expo, his creativity designing on-site Show programs to increase vendor business, and his success raising exhibitor and attendee satisfaction levels.
"Marc has achieved impressive professional milestones in the past year and is well deserving of the 2011 Group Sales Director of the Year award," said PGA Golf Exhibitions Vice President John McGeary. "Marc's long history with the PGA Shows and his love of the game are matched by his dedication to making our events the very best business opportunities for our vendors, PGA Professionals, retailers and industry leaders who count on PGA Golf Shows to support their business year in and year out."
Simon has previously been named Reed's Sales Manager of the Year and received Reed's "People's Choice" Award in 2005 and 2010. In 2011, he was honored by the Sporting Goods Business 40 Under 40 Awards.