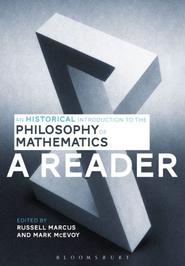 Assistant Professor of Philosophy Russell Marcus was the co-editor of An Historical Introduction to the Philosophy of Mathematics, published this month by Bloomsbury. Written with Mark McEvoy of Hofstra University, the book is a historical reader in the philosophy of mathematics, covering work from the Presocratics to the present. It is the first and only philosophy of mathematics reader aimed at undergraduates.
The publisher's website describes the book as "an impressive collection of primary sources from ancient and modern philosophy." It features selections from Plato, Aristotle, Descartes, Hume, Kant and others, as well as recent texts from philosophers including Quine, Putnam, Field and Maddy.
About a quarter of the book is introductory and explanatory passages written by Marcus and McElvoy, with the rest being primary sources. Marcus developed much of the original material and refined the selections of primary sources in conjunction with his seminar Philosophy 405: Knowledge, Truth, and Mathematics.
University of Toronto Professor James Robert Brown called the book "an invaluable resource."
Lisa Warenski of The City College of New York said, "This well-curated reader includes engaging introductory essays for each chapter that will help students tackle some challenging material. It is a welcome addition to the pedagogical literature."