Marcus Presents Workshop at International Conference
---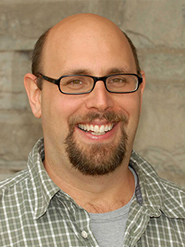 Assistant Professor of Philosophy Russell Marcus presented a workshop on July 27 at the 19th Biennial International Workshop-Conference of the American Association of Philosophy Teachers (AAPT) at St. Edward's University in Austin, Texas. In "How to Sit in the Back of the Class, Or How a Control Freak Ceded Some Control Over His Philosophy Classroom," Marcus distinguished the standard model of philosophy classes from the student-centered model he has developed and refined.
According to Marcus, in the standard model of a philosophy class the instructor works from the front of the classroom. By borrowing from what educational theorists call the inverted classroom, he said he has "been experimenting with ways to sit in the back, to let the students lead class discussions and allow myself only a voice."
The AAPT workshop was an interactive discussion both of Marcus' experiences sitting in the back of a variety of types of classes and the experiences of attendees facilitating student presentations. Discussion was focused on uses of presentations for various course levels, and distinguishing between solo presentations, paired presentations and panel discussions.