Mark Cryer and Brenda-Lee Tyler Rabine '88 Perform in Merry Wives of Windsor
---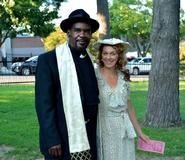 It had been a long flight from Portland, Oregon and I only had seven hours before I was due at rehearsal for Merry Wives of Windsor in Saratoga Springs. The first day of rehearsal is always exciting, meeting members of the cast, the first read of the play and beginning the process of getting the show on its feet. When I arrived at rehearsal before any of this could begin, I was met by a smiling woman with a small frame who came up to me and asked, "Are you Mark Cryer?" I said yes and her smile got even bigger as she said, "I graduated from Hamilton College in 1988, I was Brenda-Lee Tyler then. I have never worked professionally with a faculty member from Hamilton before." Me either! She is the first Hamilton alum I've ever worked with and after watching her work for over a month, I'm both proud and happy for the experience. Both of us are proud members of Actors Equity (governing union for all professional stage actors) and it showed daily. Always prepared, always on time, always something new for that day's rehearsal, always behaving as role models for the younger cast members. "This is how it's done" is the example we set daily along with the professional adage, "the work comes first." What a joy it was to watch Brenny, who was one of the leading characters, work. She was insightful, quick and funny. You could see daily she really enjoyed the work, the journey as well as the craft of acting. With the show closed we've all moved on to our next project, but I'll always remember the first person and the first time I had the opportunity to work with a Hamilton College alum!
"During one of the first conversations we had about Hamilton, we both agreed that it offers an outstanding education, because its faculty members are both scholars and skilled, passionate educators," Rabine shared. "While I majored in English Lit, I was fortunate to work with the theatre department a few times, and I always felt greatly impressed by my talented classmates."
While at Hamilton, Rabine performed in department productions of The Kitchen and Noises Off!, and in student productions of Dracula, The Musical Comedy, and Vanities.