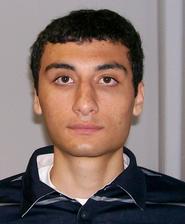 Hometown:
Hamburg, N.J.
High School:
Wallkill Valley Regional High School
Major(s):
Undecided
Campus activities:
French Club; piano and violin lessons; Kids Who Like To Do Fun Things club
Last Movie Seen in Theaters:
Watchmen
Favorite Movie:
Munich
Favorite Song:
Sad-Eyed Lady of the Lowlands
Favorite Place You've Lived on Campus:
Keehn
Last Book Read:
Meurtres Pour Memoires
Hobbies/Interests:
Basketball, ping-pong, music, gourmet coffee, good food
Favorite Place on Campus:
The Glen
Quote:
"I like you just the way you are." — Mr. Rogers
Thanks to the generous support of young alumni, Hamilton is pleased to name Mark Ibrahim '12 of Ridgefield Park, N.J., as its 19th GOLD Scholar. Mark recently sat down to reflect on his Hamilton experience, and here's what he shared.
Where did you grow up and what was life like there?
I grew up in Ridgefield Park, New Jersey, next to the 2ndStreet Park. I spent every day of my summer at the park, mostly playing basketball, but also playing other sports or games with my friends. I remember walking to school every day and not really complaining about it as a child, even though I now probably would. I would say it was a fun place to grow with lots of other children and a caring community of parents.

Describe your parents and/or family members?
My mother is a high school chemistry teacher, and my father works for Kodak. I also have a younger brother who imitates every aspect of my life, even the sports he chooses to play.

How did you discover Hamilton?
I initially had no idea where I would go to college. My parents were not very involved in the college decision process and allowed me to freely choose. I initially visited many different types of schools; including big universities and even a few technical institutes, since I like math and science. I soon realized, however, that a big school was not for me, and a school that only focused on certain subjects was not either. I always enjoyed smaller classes and had a genuine interest in an incredibly wide variety of subjects. I stumbled upon and really liked the idea of a liberal arts college, based on small classes and a well-rounded education. I chose Hamilton because of its location (since I never really enjoyed big busy cities), its emphasis on writing and speaking, skills that I value and from which I draw inspiration, and its lack of stringent course requirements, which allows me to freely explore many interests without worrying about satisfying a graduation requirement.
What were your first impressions of the College? Do you find they're still true today?
I was surprised by how friendly and welcoming everyone initially was and even more surprised that this continued after the beginning of the semester. To see seniors at a party greet you and introduce themselves was something unheard of to me — at least based on my years in high school. The friendliness also extended to professors, whom I had always thought were grandiose intelligent people too busy to interact. I was pleasantly surprised by how friendly and approachable all of my professors were first semester.
What are your plans after Hamilton? Where do you want to live?
I have yet to decide on a major and am having an even harder time thinking about future plans. I am considering everything from becoming a lawyer or an engineer to pursuing a career in finance. I think it would be exciting to live in a city (probably New York or Boston) for the first few years on the job, but ultimately I would definitely want a home in a rural area with a farm.
Gold Scholars is an initiative supported by the Annual Fund, which has always provided direct support for the College's most important current priorities, especially scholarship aid. Starting this year, gifts from the GOLD Group – Graduates of the Last Decade – will specifically support students on campus. With each $15,000 increment collectively contributed, the College will select a student as a GOLD Scholar for 2008-09.