Marquis Palmer grew up less than 10 miles from the Hamilton College campus in an environment where poverty rates were high and expectations were often low. Now Palmer, a 2018 Hamilton graduate from Utica, N.Y., has been selected to receive a Marshall Scholarship, one of the most competitive and prestigious postgraduate scholarships awarded to U.S. citizens.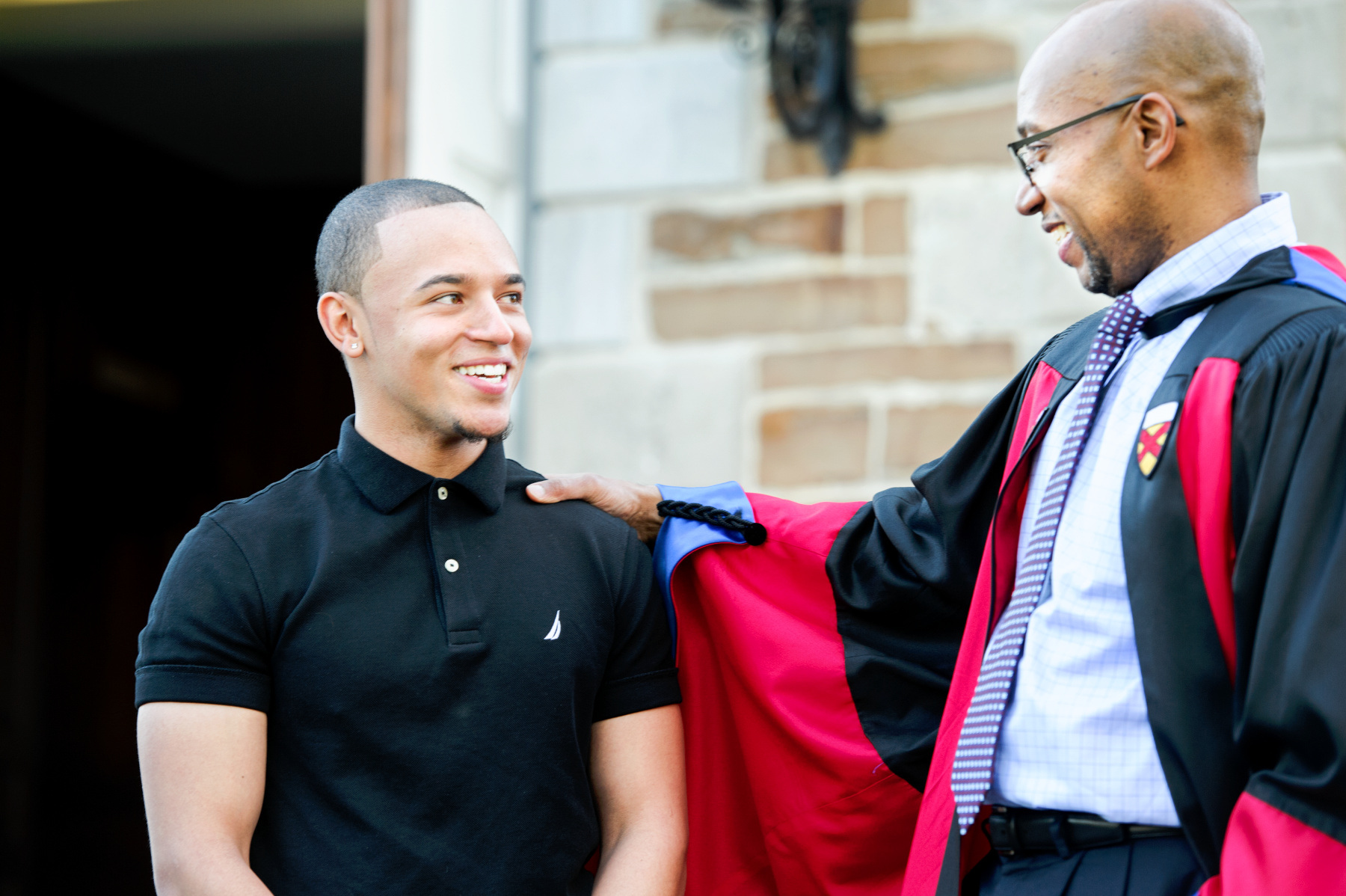 "I have not known a person who has come so far, so fast, so well," said Rick Werner, professor of philosophy emeritus. Added mentor and Professor of Philosophy Todd Franklin, "I've never before worked with a student of the caliber of Marquis Palmer; I'm confident that he will rise far beyond me — and as he does, I will count my lucky stars for having had an opportunity to catch a glimpse of him during the early stages of his ascent."
Palmer will pursue two degrees over two years at two different UK institutions: a Master of Science degree in political thought from the School of Oriental and African Studies at the University of London, and a Master of Philosophy degree in criminology from the University of Cambridge.
"[M]y Marshall Scholarship," Palmer said, "will allow me to connect with advocates for racial justice in England, with whom I hope to engage in a mutually beneficial exchange of ideas, experiences, expertise, and strategies that can help both the U.K. and the U.S. truly embody our shared values of freedom and equality."
The interests stem from Palmer's upbringing and his studies at Hamilton.
Growing Up in Utica, N.Y.
"Growing up, I witnessed the incarceration of so many loved ones, my father included," Palmer said. "I saw my mom clock-out of an eight-hour shift just to clock-in to another — and still barely earn enough to support our family of eight. I watched the trauma of poverty pave the way to drug addiction, and the subsequent criminalization or death — but hardly treatment — of my relatives. And through my stepfather, who ICE detained under [President] Obama and deported under [President] Trump, I learned about the systemic disadvantages confronting immigrant communities in this country."
"[T]hese struggles all but guaranteed a dismal future for me," Palmer said, but local community organizations such as Occupy Utica, the Mohawk Valley Junior Frontiers, and On Point for College helped him "reorient my focus to education and community activism."
During his senior year at Thomas R. Proctor High School in Utica, Palmer approached Phyllis Breland, who at the time was director of Hamilton's Opportunity Programs, to discuss his interest in attending the College. She immediately recognized "a diamond in plain sight."
"During my 19 years as director of Opportunity Programs at Hamilton College," Breland wrote in her recommendation to the Marshall Scholarship Selection Committee, "I have witnessed many success stories, but never with the consistency, focus, motivation, and accumulated accomplishments as Marquis. The story of Marquis is a testament to what some say is the impossible. Marquis came from a low-income family from Utica, New York. His family's early interaction with the penal and justice systems could have swallowed him up with anger …. Marquis chose instead civil engagement, community collaboration, and being a productive member of society as his voice."
"His life has served as preparation for his passion," Breland added.
Said Palmer of his relationship with Breland: "[H]er support and her believing in me … carried me through my entire time at Hamilton, and made it virtually impossible to do anything less than succeed."
Like most impactful leaders, Marquis leads by example. Whether it's pressing those in power for answers, building and shaping coalitions, or organizing peaceful demonstrations, Marquis has always stepped forward and stepped up in the service of social justice.
Undergraduate Years at Hamilton
Palmer excelled at Hamilton academically, socially, and as a student leader. A philosophy major, he received an Emerson Foundation grant in 2015 to examine the Black Lives Matter movement from what he called "the perspective of anarchist political philosophy," and a second Emerson grant in 2017 that used video to explore the loss of a family member to incarceration.
"Both experiences strengthened my desire to dive deeper into political theory and criminology with hopes that I might find something that can help us out of the racial crisis — in and outside of criminal justice — that has long plagued our country. The Marshall Scholarship constitutes an exciting next step in that intellectual journey."
As an undergraduate, Palmer was a Writing Center tutor, a teaching assistant in the literature and philosophy departments, a Student Assembly class representative, an officer for the Black and Latinx Student Union, and the founder of the Hamilton Philanthropy Committee's Young Civic Leader Scholarship for local high school students.
"Although Marquis shines bright academically," Franklin said, "he perhaps shines brightest in terms of leadership. Like most impactful leaders, Marquis leads by example. Whether it's pressing those in power for answers, building and shaping coalitions, or organizing peaceful demonstrations, Marquis has always stepped forward and stepped up in the service of social justice."
Palmer spent his junior year studying philosophy and literature at Oxford University in the UK, where his existentialism tutor characterized him as "a most brilliant student" who "consistently delivers near perfectly argued and very profoundly illuminating papers that display a powerful independent voice, highly critical thought, very sophisticated reasoning, and very original scholarship."
Elected to Phi Beta Kappa, the nation's oldest academic honorary society, Palmer was Hamilton's 2018 recipient of the James Soper Merrill Prize, awarded to the member of the graduating class "who, in character and influence, has typified the highest ideals of the College." He received a 2018 Thomas J. Watson Fellowship, which he used to explore skateboarding as a tool for community activism in Germany, Brazil, South Africa, Mozambique, and Greece. He also received a Fulbright English Teaching Assistantship to the Czech Republic but chose the Watson, and in 2019 was selected a Student Star and student keynote speaker for On Point for College, a local nonprofit that helps first generation youth attend college. Since completing his Watson Fellowship, Palmer has been working as a researcher and investigator with Brooklyn Defender Services.
"While I have known individual students with some of Marquis' talents, I don't think that I have known students with all of his talents put together as he does," said Werner. "He is a work of art — style, grace, and beauty."
The Marshall Scholarship
Established by the British Parliament in 1953 in gratitude for the United States' establishment of the Marshall Plan, a U.S. program providing aid to Western Europe following the devastation of World War II. Up to 50 young Americans of high ability are selected each year for postgraduate study at an institution in the United Kingdom. The Marshall Scholarship was modeled after the equally competitive Rhodes Scholar program, which was established in 1902. Applicants are evaluated based on academic merit, leadership potential, and ambassadorial potential.
Palmer is the third Hamilton graduate selected for the prestigious scholarship. He follows John Hewko '79, general secretary and chief executive officer of Rotary International who was a Marshall Scholar at Oxford University from 1979 to 1981, and Scott Gwara '84, a professor of English language and literature at the University of South Carolina who studied at the University of Cambridge from 1984 to 1986.
Prior Marshall Scholarship recipients have included Supreme Court justices, members of Congress, corporate CEOs, college and university presidents and deans, Pulitzer Prize-winning authors, MacArthur Genius award recipients, a Nobel laureate, and an astronaut.