Martin Presents at Political Theory Conference
---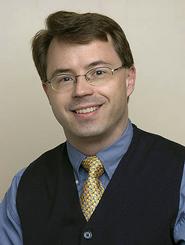 Associate Professor of Government Robert Martin presented "Secret Plodders: Anti-Federalism, Anonymity, and the Struggle for Democratic Dissent" at the annual Association for Political Theory Conference on Saturday, Oct. 24. The three-day event conference was held at the Annenberg Presidential Conference Center at Texas A&M University.

Martin's paper reviewed the political critiques of "back-country" Anti-Federalists, specifically the medium for their message: non-attributed writing. Anonymous and pseudonymous writing had been a popular form of political discourse in America by the time of the forming of the republic, but its use exploded in the 1780s during the debate over the Constitution, setting a precedent for harsh and robust democratic dissent from all sides of the political spectrum.

In addition to presenting at the conference, Martin shared stories from The Many Faces of Alexander Hamilton: The Life and Legacy of America's Most Elusive Founding Father, a book he co-edited with Professor of History Douglas Ambrose, at a gathering of Hamilton alumni in the Houston area on Oct. 22. The essays in this book address long-debated questions about Hamilton's public persona and political ideology.