Martin Presents at Political Theory Conference
---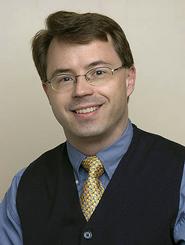 Associate Professor of Government Robert Martin presented a paper at the Association for Political Theory conference on Oct. 13-16 at the University of Notre Dame. "Salutary 'Collisions' and Multiple Discourses: Dissent & the Radical Democratic Thought of the Late 1790s" was part of the conference's American Political Thought panel. The paper is from Martin's forthcoming book, Government by Dissent: Protest and Radical Democratic Thought in the Early American Republic (NYU Press, 2012).

According to Martin, although intellectual historians of the American founding period have recently recovered previously unknown radical voices, political theorists have been slow to examine these new sources. "Largely forgotten figures of the 1790s like the farmer William Manning and the still-unknown essayist 'Numa' explored the nature of popular government at a moment when the meaning and practice of American democracy was still fluid and fought over.

"Just when the standard-bearers of their movement—Madison and Jefferson—were channeling (and thus limiting) dissent via formal statements of state legislatures (the Virginia and Kentucky Resolutions), these plebeian thinkers were theorizing a less rigidly controlled and more robust public sphere with democratic dissent at its core. By challenging inherited notions of a single public sphere giving voice to the unity of truth, these theorists contributed to a political theory that stressed the diversity of dissenting views, the usefulness of their 'collision,' and the structural means of institutionalizing a culture and practice of dissentient democracy.

"Though the election of Jefferson and then Madison as president would close off this radical theorizing, these forgotten thinkers provide an analysis of the centrality of dissent to democracy that political theorists are only now beginning to appreciate (see, e.g, Chambers 2009; Shiffman 2002)."