Martin Presents Paper Based on Newest Book
---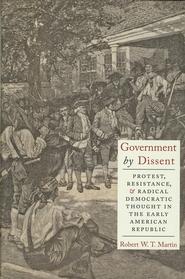 Professor of Government Robert Martin presented "Between Rosanvallon and Ranciere: Toward a Theory of Dissentient Democracy" at "Ideas and Reality of Democracy," the 2013 Symposium of the Civil Constellation Network, held at the Aland Peace Institute, in Mariehamn, Finland. Some of the arguments from the conclusion of Martin's newest book, Government by Dissent - Protest, Resistance, and Radical Democratic Thought in the Early American Republic, served as the foundation for this paper.
Government by Dissent was described by University of Pennsylvania Professor of Political Science Rogers M. Smith as, "The most thorough examination we have of how early Americans wrestled with what types of political dissent should be permitted, even promoted, in the new republic they were forming."
According to the publisher, NYU Press, "Martin explores the idea that the people most important in a flourishing democracy are those who challenge the status quo. The American political radicals of the 1790s understood, articulated, and defended the crucial necessity of dissent to democracy. Dissent has rarely been the mainstream of democratic politics. But the figures explored here—forgotten farmers as well as revered framers—understood that dissent is always the essential undercurrent of democracy and is often the critical crosscurrent. Only by returning to their political insights can we hope to reinvigorate our own popular politics."
Martin's earlier books include The Free and Open Press: The Founding of American Democratic Press Liberty, 1640-1800 (2001) and The Many Faces of Alexander Hamilton (co-edited with Douglas Ambrose, 2006), both from NYU Press.