Matt Zeller '04 Publishes Book about Afghanistan
---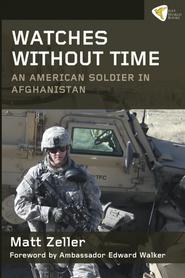 This May, Just World Books published Watches Without Time: An American Soldier in Afghanistan by U.S. Army Capt. Matt Zeller '04. The book is a collection of the letters and emails Zeller sent to family and friends during the eight months he spent as an embedded combat adviser with the Afghan security forces in Ghazni, Afghanistan during 2008.

Just World Books writes, "Watches Without Time gives a granular and gripping account of the tough challenges that Zeller and his men encountered in Ghazni, and of the very complex missions they accomplished there. Written in clear and searingly intimate prose, it also highlights the many trials and emotion-laden experiences he underwent throughout his tour and after returning to the United States.

Zeller takes his readers with him on an emotional journey that will lead many to share the anger he felt at the many ways in which he saw the war being mismanaged, while stirring increased admiration for the soldiers tasked with conducting that war on the very difficult terrain of Afghanistan."

Former Assistant Secretary of State for Near East Affairs Ambassador Edward S. Walker '62 wrote the foreword for the book.
Zeller and Ambassador Walker will be hosting a talk about the book and the war in Afghanistan at Hamilton in the fall.
At Hamilton, Zeller majored in government and was a member of the men's rugby team. He went on to earn his master of international affairs and his master of public administration from the Maxwell School of Syracuse University in 2006. He is currently clean energy program manager at Integrity Applications Incorporated.