Students Present Posters at Biophysical Society Meeting
---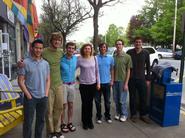 Six students presented posters at the 55th Annual Biophysical Society Meeting that took place in March in Baltimore. Matthew Baxter '11, Daryl Berke '11, Alex Dao '12, Jason McGavin'12, Nathan Schneck '11 and William Wieczorek '11 presented work as part of sessions on "Membrane Active Peptides" and "Interfacial Protein-Lipid Interactions."
The research conference gathers scientists from around the world in the interdisciplinary fields representing biophysics, and with 6,500 attendees is the largest meeting of its kind. This year's national lecture, titled "Chaperonin-Mediated Protein Folding," was given by Prof. Arthur L. Horwich of Yale University.
Schneck presented his research in a poster titled "Structure-function relationship investigations of neuropeptide Y bound to hydrated lipid bilayers". Courtney Carroll '11 was a co-author on this poster. Baxter, Berke, and McGavin presented a poster titled "Bicelle-bound solid-state NMR Structural Studies and membrane-permeabilizing activities of piscidin 1 and piscidin 3: Implications for mode of antimicrobial action."
Dao's and Wieczorek's poster featured the "The effects of membrane curvature on the high-resolution structures of membrane-bound antimicrobial piscidin 1 and piscidin 3." Wieczorek was a co-author on a second poster, "Atomic-resolution three dimensional structures and membrane-locations of antimicrobial piscidin 1 and piscidin 3 in aligned lipid bilayers: a solid-state NMR and molecular dynamics investigation."
William (Wynn) Stateman, '10, a post-baccaulaurate researcher in the laboratory of Associate Professor of Chemistry Myriam Cotten also attended the meeting. The results presented by Baxter, Berke, Dao, McGavin, Schneck and Wieczorek were obtained on their research projects in Cotten's lab.