Matthew Zeller '04 to Run for Congress in Special Election
---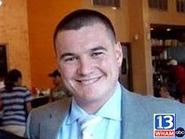 Matthew Zeller '04 is the Democrat's choice to run in a special election in the 29th Congressional District. The election will replace the seat of Democrat Eric Massa who resigned in March. If such an election is called, Zeller will run against Republican Tom Reed, the former mayor of Corning.
According to friends, Zeller used to lean to the right politically until he grew disillusioned with GOP politics during the Bush administration. He now identifies himself with the Democratic Party, even though he remains fiscally conservative. A native of Rochester, New York, Zeller signed up for the U.S Army in a mall near Hamilton College in December 2001, just months after the 9/11 terrorist attacks. He was deployed to Afghanistan in April 2008 where he served as an embedded combat mentor to the Afghan national Army and Afghan National Police until returning to the United States in January 2009.
Zeller graduated from Hamilton with a concentration in government. At Hamilton, he participated in Model European Union, Men's Rugby and WHCL Hamilton College Radio. Upon graduating from Hamilton, Zeller received master's degrees in public administration and international relations from Syracuse University in 2006. He currently works on terrorism policy for the U.S Department of State in Washington, D.C.