Maurice Michaane '03 Oversees N.Y.C. LGBT Pride March in Milestone Year
---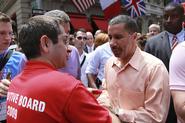 "I was 21 when I moved to New York City in 2003, and I just wanted to get involved in the community," said Maurice Michaane '03, "so I called
Heritage of Pride
and volunteered for that year's march."

That was then.

This year, as director of N.Y.C. Pride March, Michaane orchestrated myriad logistics, coordinated a brigade of police officers and a volunteer force in excess of 300, and accommodated the busy schedules of an extraordinary fleet of Grand Marshals, including Academy Award-winning screenwriter Dustin Lance Black, AIDS activist Cleve Jones, LGBT rights advocate Anne Kronenberg, and New York State Governor David A. Paterson.
Jenna Bussman '02 also contributed to the success of the march. Michaane and Bussman reconnected last fall at a Hamilton Wall Street Association event, where she reiterated her desire to become more involved in New York City's LGBT community. Michaane gladly took her up on her offer, appointing her manager of the 2009 march.
New York Daily News
online
recently profiled both Michaane and Bussman
in its coverage of N.Y.C. Pride.
June 28 marked the 40th anniversary of the Stonewall riots, during which a throng of indignant patrons of the Stonewall Inn on Christopher Street in Greenwich Village retaliated against a police raid of the establishment. The days-long fracas is widely cited as the catalyst of the modern American gay rights movement. N.Y.C. Pride honors the Stonewall legacy each year with a week of events that celebrates LGBT communities in New York City and across the country, as well as abroad.
The march stepped off at noon on Sunday, June 28. Thousands of marchers and 170 vehicles and floats zigzagged along the four-mile "Lavender Line" from its start at the intersection of 52nd Street and Fifth Avenue to its terminus on Christopher Street. More than one million spectators and revelers looked on as the march traversed Manhattan.
But despite the floats, glitter, and disco music, Michaane emphasized that the march is not a parade. "It is a march and will always be a march until such a time when there is full equality across the board," he said.
Michaane is a full-time honors M.B.A. candidate at the Zicklin School of Business at Bernard M. Baruch College of the City University of New York. He is currently employed as summer M.B.A. intern at S & P in the Corporate Communications group. Since moving to New York, he has worked as associate at Goldman Sachs and as legal assistant at Skadden Arps.
Michaane graduated from Hamilton with a degree in government. As a student, he rowed for men's crew during his freshman year, reported for the Spectator, and broadcast on WHCL. He was also active in Student Assembly as president of the Class of 2003.
His current activities and interests include community service, boating, ice skating, and active service on the Alumni Council as Alumni Class President.
Michaane resides in New York City with his partner, Dr. Michael Owen.
--adapted in part from New York Daily News online reporting