McCormick Presents at American Society for Microbiology Meeting
---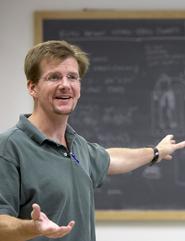 Associate Professor of Biology Mike McCormick presented the results of a multi-year research project conducted at Green Lakes State Park at the national meeting of American Society for Microbiology in New Orleans, May 21-25.
The work titled "High Resolution Characterization of Microbial Diversity and Geochemistry in a Meromictic Lake (Green Lake, Fayetteville, NY)," was conducted by several Hamilton students (Nikola Banishki '07, Amy Rumack '09, Sally Powell '09, Valarie Valant '10, Libby Pendery '10, Sean Linehan '10, Agne Jakubauskite '13 and Andrew Seraichick '13) in collaboration with Professor Jinnie Garrett (Hamilton Biology Department), Professor Lorraine Olendzenski of St. Lawrence Universityand Dr. Eric Boyd of the Astrobiology Biogeocatalysis Research Center at Montana State University.
Green Lake is a meromictic lake meaning that it is comprised of two layers of water that never mix. As a result, the geochemistry of Green Lake changes dramatically with depth. Although Green Lake is perhaps the most well studied meromictic lake in the world with regard to its geology and limnology, the microbiological characterization of this lake remained limited. In this project the first high-resolution molecular based survey of microbial community composition and geochemistry was conducted throughout the water column of Green Lake.