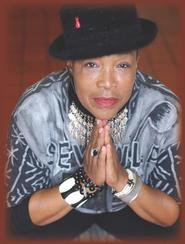 Rhodessa Jones, co-artistic director of the San Francisco performance company Cultural Odyssey, will hold two free, public events as part of her residency at Hamilton, Sept. 15 - 18. She is also director of Cultural Odyssey's Medea Project: Theater for Incarcerated Women and HIV Circle, a performance workshop designed to achieve personal and social transformation with incarcerated women and women living with HIV.

She will give a public lecture titled "Ancient Myth: A Tool for Activism and Self-Discovery," on Tuesday Sept. 15, at 4:10 p.m. in the Fillius Events Barn.
Jones will screen a preliminary video of Birthright? on Thursday, Sept. 17, at 4:10 p.m., in the Kennedy Auditorium, Taylor Science Center. Birthright? is a performance piece that explores a woman's right to choose. The stories examine reproductive rights and women's health and are taken from the Medea Project's relationship to Planned Parenthood. Jones will describe the process behind the performance and engage in a discussion of the issues with the audience, including members of Planned Parenthood of the Mohawk Valley.
Jones is a frequent visitor at college campuses and her directing credits include Lysistrata, for the African American Shakespeare Company; My Life in the Concrete Jungle, The Lorraine Hansberry Theater, San Francisco; Sekou Sundiata's Blessing the Boats, Aaron Davis Hall, New York; and Will Power's The Gathering, Theater Artaud, San Francisco.
Jones' recent U.S. residencies include Brown University and Scripps College Humanities Institute. In 2014 she was the keynote speaker for graduation commencement, Department of Theater, Dance, and Performance Studies at the University of California, Berkeley.
Her published works include: A Beginner's Guide to Community - Based Arts, New Village Press; Imagining Medea: Rhodessa Jones and Theater for Incarcerated Women, The University of North Carolina Press; and Colored Contradictions: An Anthology of Contemporary African – American Plays ("Big Butt Girls, Hard-Headed Women"), Penguin Group.
Jones' appearance is a Humanities Project program and is supported by Hamilton's Levitt Center, Dean of Faculty office, and departments of classics and theatre.
Cultural Odyssey and The Medea Project are sponsored in part by the Grousbeck Family Foundation, the National Endowment for the Arts, Grants for the Arts of the Hotel Tax Fund, the San Francisco Art Commission, the William and Flora Hewlett Foundation, the California Arts Council and individual donations.