Mellon Foundation Awards Grant to New York Six
---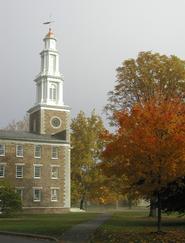 The New York Six Liberal Arts Consortium has received a $600,000, three-year grant from the Andrew W. Mellon Foundation to support collaborative programs in the areas of library collections, information technology, faculty and student development, and diversity.

The grant, administered through Hamilton College, will provide significant funding for the Consortium's MediaShare Project, a joint library-information technology initiative designed to facilitate the sharing of media collections and technologies, leverage resources, and enhance services through cooperation and coordination. It also will create the New York Six Network, a series of activities designed to help faculty, staff, and students on the six campuses to explore and develop useful, productive collaborations. These programs emerged from a one-year planning initiative, also funded by the Mellon Foundation.

"Hamilton and our five consortium partners share a common commitment to liberal education," said Hamilton College President Joan Hinde Stewart. "This grant that will allow us to continue exploring multiple collaborative endeavors that will enrich our campuses in a cost effective manner."

The New York Six Liberal Arts Consortium is a cooperative venture of six Upstate New York liberal arts institutions: Colgate University, Hamilton College, Hobart and William Smith Colleges, St. Lawrence University, Skidmore College, and Union College.

"The response of our six institutions to the potential for collaboration has been remarkable," said Amy Cronin, special assistant to the presidents for the New York Six. "The greatest challenge of the planning process was narrowing down the list of opportunities. With this new Mellon grant, we will be able to establish programs that are in keeping with our mission and build on the momentum of the past year."

The Consortium facilitates collaboration among its member institutions in fulfilling their educational missions and serving the public good. Through the sharing of expertise and resources, the Consortium enhances opportunities for students, faculty, and staff, while reducing colleges' individual and collective operating and capital costs.