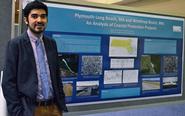 Jorge L. Mendieta, a senior geosciences major, presented a poster titled "Plymouth Long Beach, MA and Winthrop Beach, MA: An Analysis of Coastal Protection Projects" at the 49th Annual Meeting of the Geological Society of America (GSA) - Northeastern Section. The conference was held March 23-25 in Lancaster, Pa.
Mendieta's work in coastal geology was presented as a poster in the Coastal/Marine Science session. It was based on his senior thesis research with Professor of Geosciences Cynthia Domack. His abstract was published in "GSA Abstracts with Programs," Vol. 46, No. 2.
Mendieta is the son of Jorge, Sr., and Maria Mendieta of Revere, Mass. He is a graduate of Revere High School.