Men's hockey team participates in Parkinson Awareness Walk
---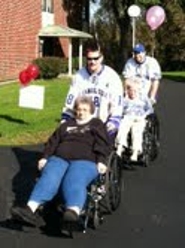 The Hamilton College men's ice hockey team participated in the 9th Annual Parkinson Awareness Walk at the Presbyterian Home in New Hartford, N.Y., on Oct. 8.

The Presbyterian Home offers a full range of comprehensive senior health care services to the community. The Parkinson Awareness Walk is an event held each year in order to raise awareness about Parkinson's disease. The proceeds from the event are used to upgrade and renovate the Parkinson unit at the Presbyterian Home.

The men's ice hockey team helped individuals affected by Parkinson's disease participate in the walk. Members of the team pushed wheelchair-bound residents of the Parkinson unit on the course around the Presbyterian Home campus.

The men's ice hockey team has frequently been involved with the Parkinson Awareness Walk since the inaugural event nine years ago.