Men's hockey blanks Conn. College
---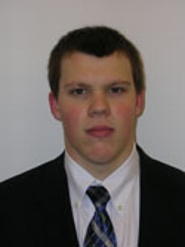 Joe Houk '13 recorded two goals and an assist, and Scott Hefferman '11 stopped all 34 shots he faced to lead Hamilton College to a 4-0 win against Connecticut College in a New England Small College Athletic Conference men's ice hockey game at Conn. College's Dayton Arena on Jan. 15.

Houk has four goals and four assists in his last three games. Houk's three points against the Camels ties a career high. He also had two goals and one assist in a win at Tufts University on Jan. 14. Houk leads the Continentals with 11 goals and 18 points. Bryan Kelly '12 chipped in one goal and one assist, and Joe Buicko '11 was credited with two assists. Buicko leads the team with 12 helpers.

Hefferman's shutout is the second of his Hamilton career. He also had the last one by a Continentals goalie on Nov. 25, 2007, when he backstopped Hamilton to a 2-0 win against SUNY Potsdam. The Continentals (8-4-2 overall, 5-2-2 NESCAC) have three wins and two ties in their last five games.

Conn. College (4-6-3, 4-4-1) held a 15-6 shot advantage in the first period, but neither team scored. Evan Haney '14 gave the Continentals a 1-0 lead with his first collegiate goal with 8:33 left in the second period.

Houk made it a two-goal cushion at 8:25 of the third period, and put Hamilton up 3-0 with 8:50 remaining. Kelly completed the scoring with a power-play goal at 12:58 of the third. Kelly has five goals this season. The Continentals were 1-for-3 on the power play and they killed both of the Camels' chances. Conn. College finished with a 34-16 shot advantage.