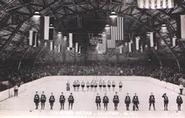 The Hamilton College men's ice hockey team will play its home opener against SUNY Cortland at the Clinton Arena on Tuesday, Nov. 22, at 7 p.m.

The game will be a fundraiser for Clinton Youth Hockey. Admission is $5, and children 14 and under are admitted free. The first 500 fans will receive a pair of Thunderstix courtesy of Access Federal Credit Union.

Clinton Arena was originally built in 1948-49. After the arena burned down on Sept. 11, 1953, it was rebuilt the following year. Clinton Arena was home to the Clinton Comets of the Eastern Hockey League from 1954 to 1973. In 1977, a portion of the movie "Slap Shot" was filmed in the arena. Clinton Arena seats 2,000 fans, and has standing room for 300 more. It was listed on the National Register of Historic Places in 2010.

In 2010-11, the Hamilton College men's ice hockey team finished with an overall record of 14-7-4 for its fewest losses in any season since 1996-97. The Continentals captured first place in the New England Small College Athletic Conference (NESCAC) with a record of 11-4-4, and earned the No. 1 seed in the conference championship for the first time.