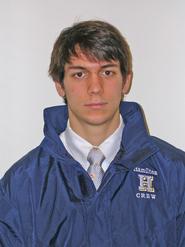 Hamilton College's Chris Visentin '12 (Rhinebeck, N.Y./Kent School [Conn.]) was selected to the 2012 Eastern College Athletic Conference (ECAC) National Invitational Rowing Championships men's rowing all-conference team on May 24.

2012 ECAC National Invitational Rowing Championships All-Conference Team

The 20-member squad is comprised of individuals from the programs that competed at the 2012 ECAC championships on May 11.

Visentin is a four-year letter winner and rowed in the seven-seat for the varsity eight this spring. He was named to the 2012 NESCAC all-conference second team earlier in May. Hamilton claimed the 2012 Tampa Mayor's Cup in March with 44 team points.