Men's soccer presents 2011 team awards
---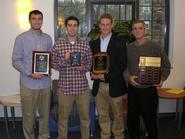 The Hamilton College men's soccer team honored a trio of players in a presentation of postseason awards on Dec. 15.

Frank Campagnano '12 (Guilderland, N.Y./Guilderland HS) received the Coaches Award. The award is presented to the player who exhibits natural talent, good sportsmanship and a strong commitment to the team.

Francois Martin '12 (Larchmont, N.Y./Masters School) was presented with the Manfred von Schiller Prize. Manfred von Schiller amassed a 227-163-58 record as head coach of the Hamilton men's soccer team from 1959 to 1997. The prize is awarded to a member of the team who displays team spirit, leadership and integrity.

Bennett Weinerman '12 (West Hartford, Conn./William Hall HS) received the Jacob Aron Shapiro '05 Memorial Award. The award is presented to the player who best exemplifies the qualities that Jacob held in great measure: A natural physical gift, a tenacious and joyful spirit, an affinity for competition and a fierce commitment to those around him. The recipient, like Jacob, is loyal, compassionate, wise and true.