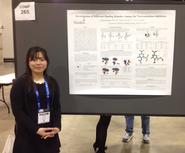 Biochemistry major Mia Kang '17 was selected to present her computational biophysical chemistry research on the differential binding kinetics of small molecules to the influenza protein neuraminidase at a special session of the 249th American Chemical Society (ACS) National Meeting and Exposition in Denver. The special session, known as Sci-Mix, brings together the most interesting and important research from each of 25 sub-divisions of the ACS. Kang was chosen as one of 13 presenters out of the 125 presentations submitted to the Division of Computers in Chemistry.
From the ACS: "Sci-Mix is designed to be a large meeting-wide poster event with posters contributed by each participating division. ... Presentation should be considered a designation for the presenters as they represent the best of what the division has to offer in terms of the science and presentation."
Kang will be presenting results of her research in the laboratory of Assistant Professor of Chemistry Adam Van Wynsberghe. Kang started her work in the summer following her first year and was supported by a stipend from The Edward and Virginia Taylor Fund for Student/Faculty Research in Chemistry. Kang has continued to work in the Van Wynsberghe group in the 2014-15 academic year through an independent study.
Kang presented at the Sci-Mix on March 23 and then again as part of the Division of Computers in Chemistry poster session on March 24. Her presentation was titled "Investigation of different binding kinetics among the neuraminidase inhibitors." and also includes student co-authors Dan Mermelstein '14 and Robert Clayton '15.
In general, the Van Wynsberghe lab studies protein flexibility and dynamics along with ligand binding kinetics using a variety of computational and theoretical techniques. The lab's goals are to develop and utilize molecular simulation methods to investigate biological and biochemical systems from a physical and chemical perspective.