Michael Bethoney '11 Experiences State Government as Intern
---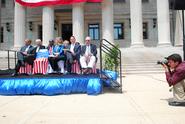 Michael Bethoney '11 is a self-proclaimed "political junkie loser," but he characterizes himself as such jocularly. He is among dozens of other interns working in Massachusetts Governor Deval Patrick's Commonwealth Corps Department, and they all share the same love for campaigns, grassroots organizing and other political programs. Bethoney obtained the position at the Massachusetts State House through Hamilton alumnus Mark Lilienthal '97, who is Governor Patrick's Director of Constituent Services.

The Commonwealth Corps' mission is to endorse service programs that rebuild communities through tutoring underprivileged children, caring for the elderly, and cleaning parks and other public places. Members hail from diverse backgrounds and must dedicate at least one year to a non-profit organization or civic program. Through working in constituent services, Bethoney is able to see how government coordinates with the state. "It's giving me a ton of connections," he said. "Now I have a new perspective on how the governor is basically the 'president' of the state. It's like being inside the West Wing of our state government."

Among his responsibilities are correspondence with the governor's constituent base, outreach to local communities, and miscellaneous office duties. He also encourages communication between the government and civic organizations. Good leaders create a thin gap between themselves and the public – Bethoney's job is to help make sure the governor maintains that tight connection.

Bethoney also does photography for press conferences and other events like the swearing in of a justice. His work in the audio-visual side of the media puts him at the forefront of the latest political actions. He is thankful for the internship, which he could not have accepted if it were not for the Joseph F. Anderson Fund, which provides stipends to students who have secured full-time, unpaid positions. The award is not limited to a specific range of academic majors, and the financial support ensures that students have the option of enhancing their career-centric experiences.

"[The internship] has taught me that not everything about government is black and white," Bethoney said. "I've learned to really think on my own and try to understand the psychology behind government and why we have it." He aspires to work in either the Peace Corps or a legislative office someday, and thinks that a law degree is a logical route to take.

Bethoney is a member of BLSU (Black Latino Student Union) and a Posse Foundation scholar. The Posse program identifies and recruits multicultural students from public high schools and places them at top tier colleges. Bethoney is also a tour guide and played the role of Seamus Finnegan last year for the improvisational act, Hogwarts at Hamilton.

Bethoney is a graduate of Needham High School.