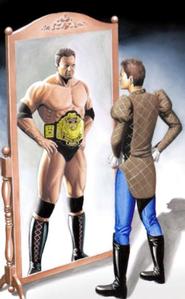 Independently, using Kickstarter as a way to raise funds, Kingston has been working hard to pursue his passion of writing wrestling comics. Kingston was successful in the production of not one, but two books in his wrestling comic series titled, Headlocked, about a young former college theater major following his dream of becoming a professional wrestler.

With a normal day job, and without any major publisher, nor any major wrestling promotions, Kingston perseveres on weekends and in his time off to make his dream come true. While this genre of comics have been unsuccessful in the past, Kingston is confident that with his love of wrestling and comics, the risk will pay off like it never has before. "You have to really love wrestling, and I do, to sort of capture what you want to capture and I've been very fortunate," Kingston said. He additionally expresses support from members of the wrestling industry, stating that "All of the guys in wrestling that like comics and art are very appreciative of what I'm trying to do and they've all been super helpful." In fact, 90% of the art is done by actual wrestlers. The interior artist, Michel Mulipola, is a wrestler from New Zealand and the covers are painted by WWE Hall of Famer, Jerry "The King" Lawler.

While trying to succeed in a super-hero dominated business has proven difficult, Kingston has not given up on a quest to feed his ambition and make dream reality. Thus far, they have managed to independently raise over $50,000 over two kickstarters. You can read more about Kingston's efforts at: http://www.headlockedcomic.com/

Michael Kingston, originally from Syracuse, NY, graduated from Hamilton in 1996 with degrees in Biochemistry and Molecular Biology.

Link to article about Kingston: http://www.philly.com/philly/blogs/the-squared-circle/Wrestling-comic-books-come-together-in-Headlocked.html