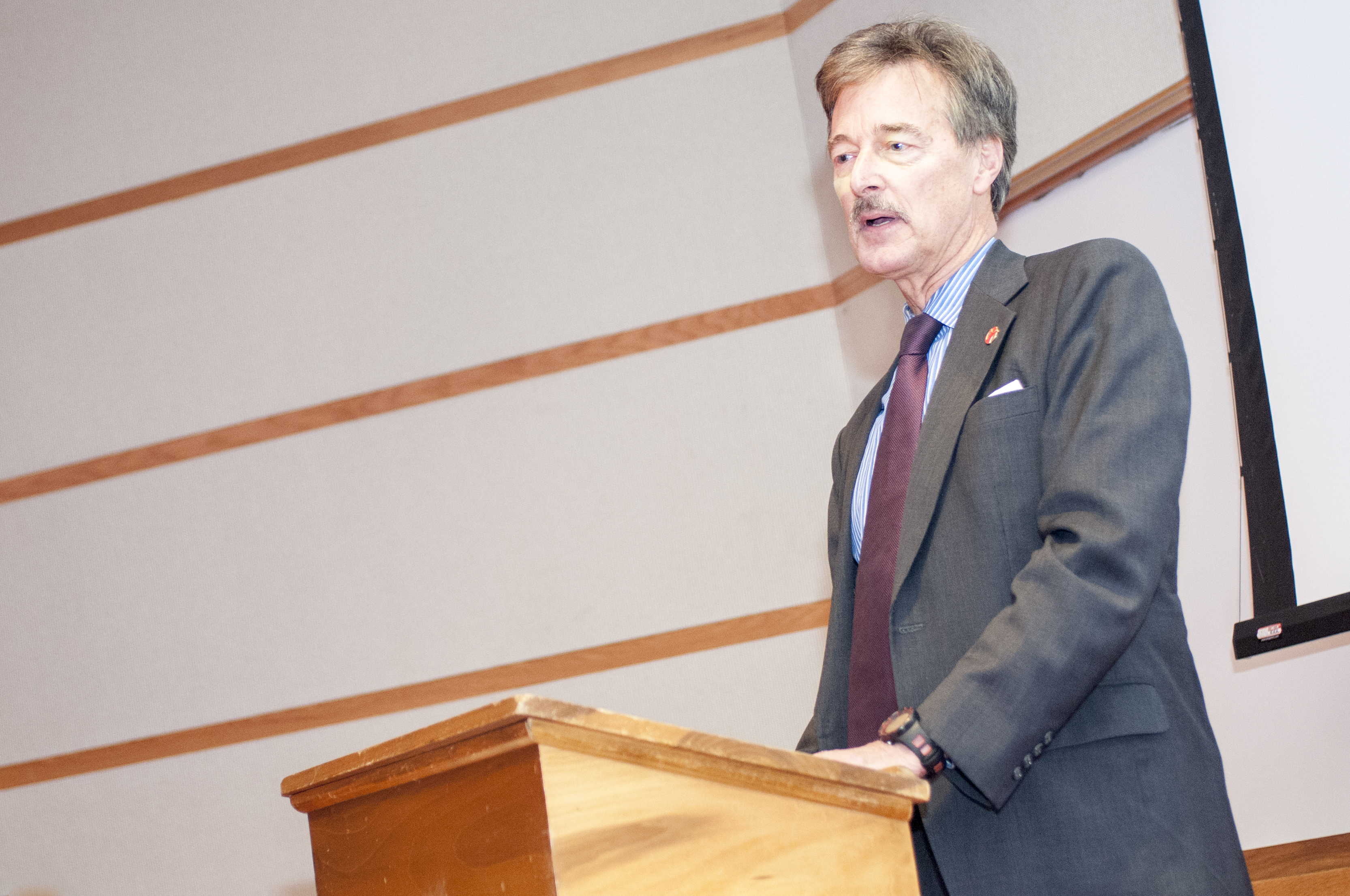 "I'm here to talk about the humanitarian imperative, which is the imperative to save lives. My team is constantly thinking, how can we help people? What can we be doing better?" began Michael Klosson '71, vice president of policy and humanitarian response for Save the Children in his Nov. 12 lecture. The lecture, titled "The Humanitarian Imperative: Is the World Failing the Most Vulnerable? What's to be Done?" was an overview of Klosson's work with Save the Children and of modern humanitarianism.
Klosson was introduced by his Hamilton classmate Professor Frank Anechiarico who said he met Klosson "on the third floor of Dunham in the latter half of the Johnson administration" before going on to detail Klosson's career which includes assignments as ambassador to Cyprus, consul general in Hong Kong and Macau Deputy Assistant Secretary of State for Legislative Affairs, and teaching at Hamilton as the Sol M. Linowitz Professor of International Affairs.
During his lecture, Klosson ran through a list of sobering statistics including the 55.9 million people worldwide who have been forced out of their homes by crises, the 21 million Yemenis who need daily help and the 12 million Syrians forced out of their homes, half of whom are children. When he got to the final number, 17, he said, "You might hear that and think, phew, that's a small number. But 17 is the number of years on average that a refugee is exiled." The lecture centered around facing the duration and complexity of modern humanitarian crises.
"Those numbers have faces, they've got names," Klosson said. "They're big numbers but real people."
Beginning with what he called the good news, Klosson explained that overall the worldwide quality of life has improved, more resources are available to do humanitarian work and technological advances help organizations like Save the Children collect information about need. "Today, NGOs are highly professional," he said. "They're more coordinated and sophisticated systems than ever."
Transitioning to the "reasons that keep me up at night," Klosson said that the number of people affected by disasters has increased. Those disasters are more protracted than in the past and often more politically complicated for NGO aid workers. "That's the world we live in now, it's not as if a hurricane happens, we go in and help and get out. These are complicated, prolonged crises," he said.
"I hope I haven't depressed or made you want to turn your head away and say 'that's too far away,'" Klosson continued. "We should care, it's closer than we think. And [helping] is less daunting than we might imagine. We absolutely can do it. Even beyond solidarity and doing the right thing, it's the smart thing to do for the world."
In a seven-part "call to action," Klosson highlighted taking the 2016 World Humanitarian Summit seriously, resolving to stop conflicts instead of responding to them after they already happened, "getting ahead of the curve," collaboration between humanitarian and development sectors, strengthening the local capacity to respond to disasters, reforming responses to refugees, and the need for "more funds better used."
After his lecture, Klosson responded to audience questions about local capacity, increasing mobility for refugees, the sources of funding and the best strategies for increasing activism.