Paludi Co-Edits Two-Volume Book Set
---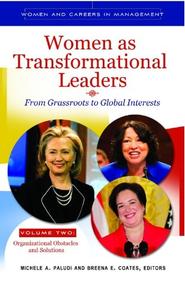 Michele Paludi, the Elihu Root Peace Fund Visiting Professor of Women's Studies, co-edited a two-volume book set for Praeger titled Women as Transformational Leaders: From Grassroots to Global Interests.
Volume one, Cultural and Organizational Stereotypes, Prejudice and Discrimination, and volume two, Organizational Obstacles and Solutions, were co-edited by Breena Coates of California State University, San Bernadino. The topics covered in the book set include global leadership to eliminate violence against women, glass ceiling/sticky floors, discrimination and harassment, stigma faced by women leaders and international insights on women and transformational leadership.
Paludi also co-authored a chapter titled "Entrepreneurial Firms and Women Leaders" for Volume two.